All three seasons of Stranger Things are available to stream now via Netflix.
Synopsis
Nancy and Jonathan follow a lead, Steve and Robin sign on to a secret mission, and Max and Eleven go shopping. A rattled Billy has troubling visions.
Review
So we're past the reintroduction of Stranger Things and now it's time to get down to the story… right? Well not quite. There's still some character stuff to get through first before we really get to the nitty gritty of just what is terrorising Hawkins this time around.
"The Mall Rats" is another fun episode which really hypes up the 80s nostalgia. If it's at all possible it's more brightly colour than the previous episode (reviewed here).
Before we get to that we've got to pick up from the last episodes cliff-hanger. Billy is dragged in to the old factory where he comes face-to-face with an Upside Down doppleganger. It's a bit of a WTF moment and seems to kick off what could be a bit of an Invasion of the Bodysnatchers vibe for the next few episodes.
It definitely seems like The Duffer Bros. are going for something slightly different this season rather than just simply making the monsters bigger. There's not a lot of context to it here, which is great considering we're only in episode two, but there's enough intrigue here to really carry this through.
Whilst all of that is going on a slightly twisted version of Hopper is trying to keep Mike and Eleven apart. This is definitely one of the sillier storylines the series has followed in the past three seasons. That being said when Hopper takes Mike out in to his car and basically warms him off on pain of death it's one of the funnier scenes in the episode.
It conveniently shakes up the main cast to have the couples split up slightly. We're so used to seeing Eleven paired up with Mike that to separate her off and put her with Max is a unique new spin on the character.
The scenes between Max and Eleven are for sure light hearted. It's a fun riff on classic 80s montages to see the two of them running around the mall having fun and being kids. This isn't something we're accustomed to for long periods of time on Stranger Things.
Some of the soapy teen romance, particularly when Max and Eleven break up with Lucas and Mike, are pretty cheesy. But there's something quite heartwarming about it all as well. The charisma of the young leads really helps carry off what seems a little bit like playing 80s dress up.
Most of the narrative development comes from the Steve/Dustin/Robin scenes and Nancy/Jonathan. Between these two plots they are able to position the series ready for the main storyline to take fore.
The Russian storyline seems to be slightly sidelined to the comedy duo of Steve and Dustin. But along with Robin there's still a lot of story to mine here. In this episode alone they've started to crack the code of the Russian recording message they picked up.
Steve does seem to have become a caricature of the character he once was. There's no doubt that he's a fan favourite but he doesn't seem to have the edge he had in season one or when we saw him wielding the barbed wire bat.
Their scenes together do hold some razor sharp comedy, the back-and-forth between Steve and Robin is excellent. It's good to see the writers giving him a female character to interact with platonically and not romantically.
Nancy and Jonathan feel a bit like they're in their own show at the moment. The Nancy Drew references being thrown around by the jerks at The Hawkins Post are not too far removed from the truth of the matter. That being said they're the closest to discovering that something from the Upside Down is still haunting Hawkins.
Hopefully as the season develops they will be able to mix with the rest of the cast more as they both function at their best when leading the charge with the full gang.
Verdict
After an episode of recap Stranger Things is starting to get to the crux of its storyline for season 3. The pacing is still slow but with "The Mall Rats" things are starting to pick up.
8/10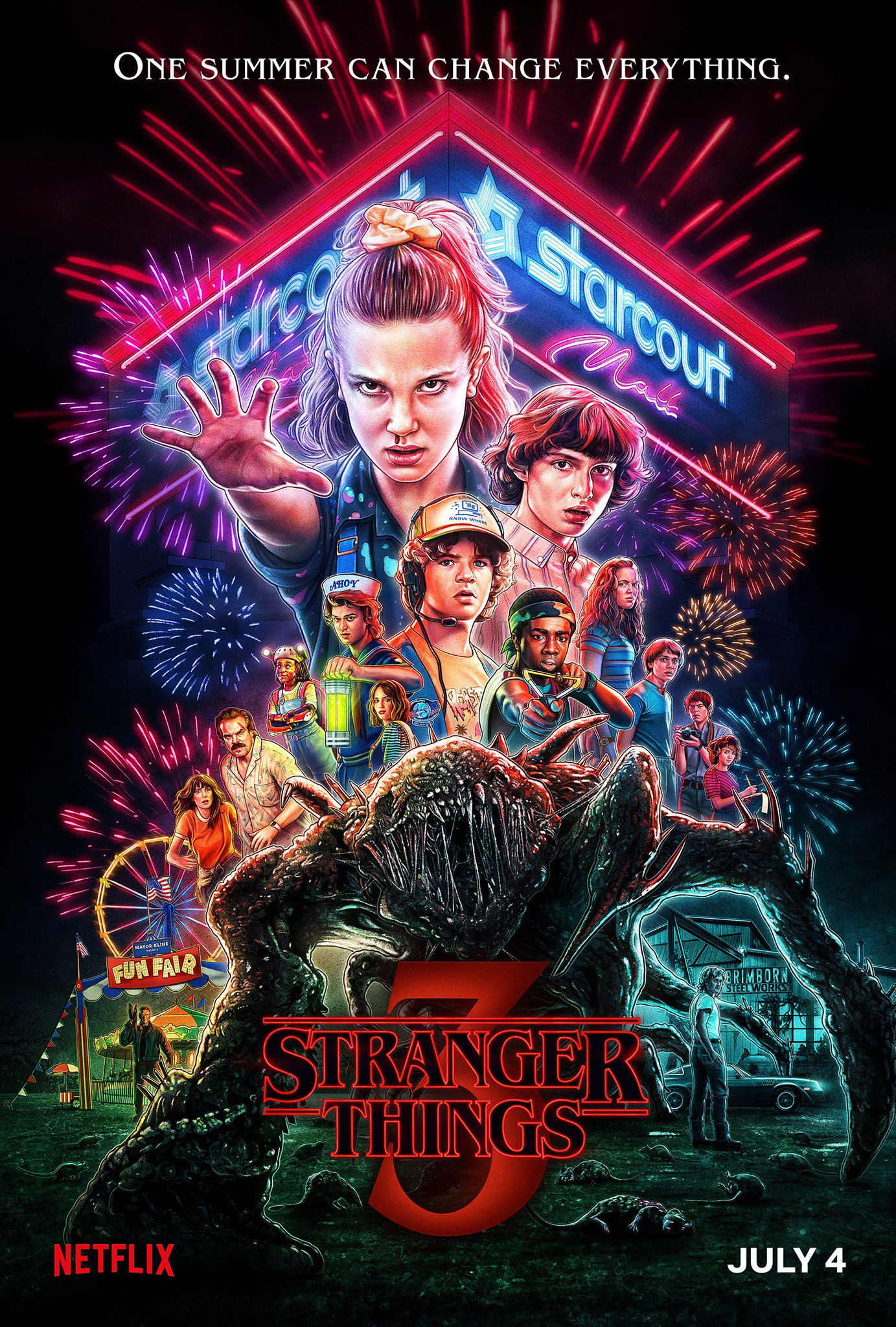 Stranger Things stars Winona Ryder, David Harbour, Finn Wolfhard, Millie Bobby Brown, Gaten Matarazzo, Caleb McLaughlin, Noah Schnapp, Natalie Dyer, Charlie Heaton, Joe Keery, Priah Ferguson, Cary Elwes, Jake Busey and Maya Thurman-Hawke.
---
Follow us on Facebook, on Twitter @GetYourComicOn, or on Instagram at GetYourComicOn. If you have a story suggestion email feedback@getyourcomicon.co.uk.