All three seasons of Stranger Things are available to stream now via Netflix.
Synopsis
Summer brings new jobs and budding romance. But the mood shifts when Dustin's radio picks up a Russian broadcast, and Will senses something is wrong.
Review
FINALLY Stranger Things is back after what feels like an age since the last new episode. But does Stranger Things 3 live up to, and surpass, the mixed bag which was season 2?
Well it's hard to say after only one episode. "Suzie, Do You Copy?" is the standard season opener which reintroduces the character of the series a couple of years on from where we left them.
This third season seems like it's going to be a transformative year for the show as the child actors are all starting to look, and act, more grown up. Voices are breaking, bowl haircuts are growing out of control and the hormones are raging.
Immediately it seems the show is building conflict amongst the gang due to their pairing off into couples, leaving Will Byers behind as the lone solo-entity. It will be interesting to see how the gang comes together to stand against whatever foe season three throws at them whilst they deal with their own internal conflicts.
Right from the outset "Suzie, Do You Copy?" sets out to show that this season of Stranger Things the story will be going bigger than the first two seasons. The opening sequence, based in Russia, alludes to some crazy big developments outside of Hawkins which could have serious ramifications for the world.
It's going to be interesting to see how such a global storyline can be entered and resolved in a small town like Hawkins. I'm slightly concerned that it may have gone too big but it's far too early to make a judgement call on that one.
Tonally the show has grown alongside its characters. This season feels brighter, slicker and more colourful as does the year in which its set. The 1985 mall setting feels a perfect way to liven up the town. Starcourt Mall offers the show a chance to pack scenes with extras and make the town feel like a much more real entity than it did in either of the previous seasons.
The various new locations seen in this episode also offer the ensemble cast much more to do. The parents – particularly Karen Wheeler – has much more to do even in this episode. It seems The Duffer Bros are aiming for a much more true ensemble feel with all our cast involved in the action somehow.
As standard for the series the production, the visual effects and the score are all outstanding. Though there is little in the way of monster action in this episode there are still some huge set pieces, mainly set around the Russian scientists, which are really well executed.
Though it's too early to tell if season 3 will be a success this is still an excellent starting point for the returning show.
Verdict
The return of Stranger Things harbours a new, brightly coloured version of the Netflix mega-hit. Whilst the pacing is slow we are all caught up on the inhabitants of Hawkins by the close of the episode. Time to get down to business…
8/10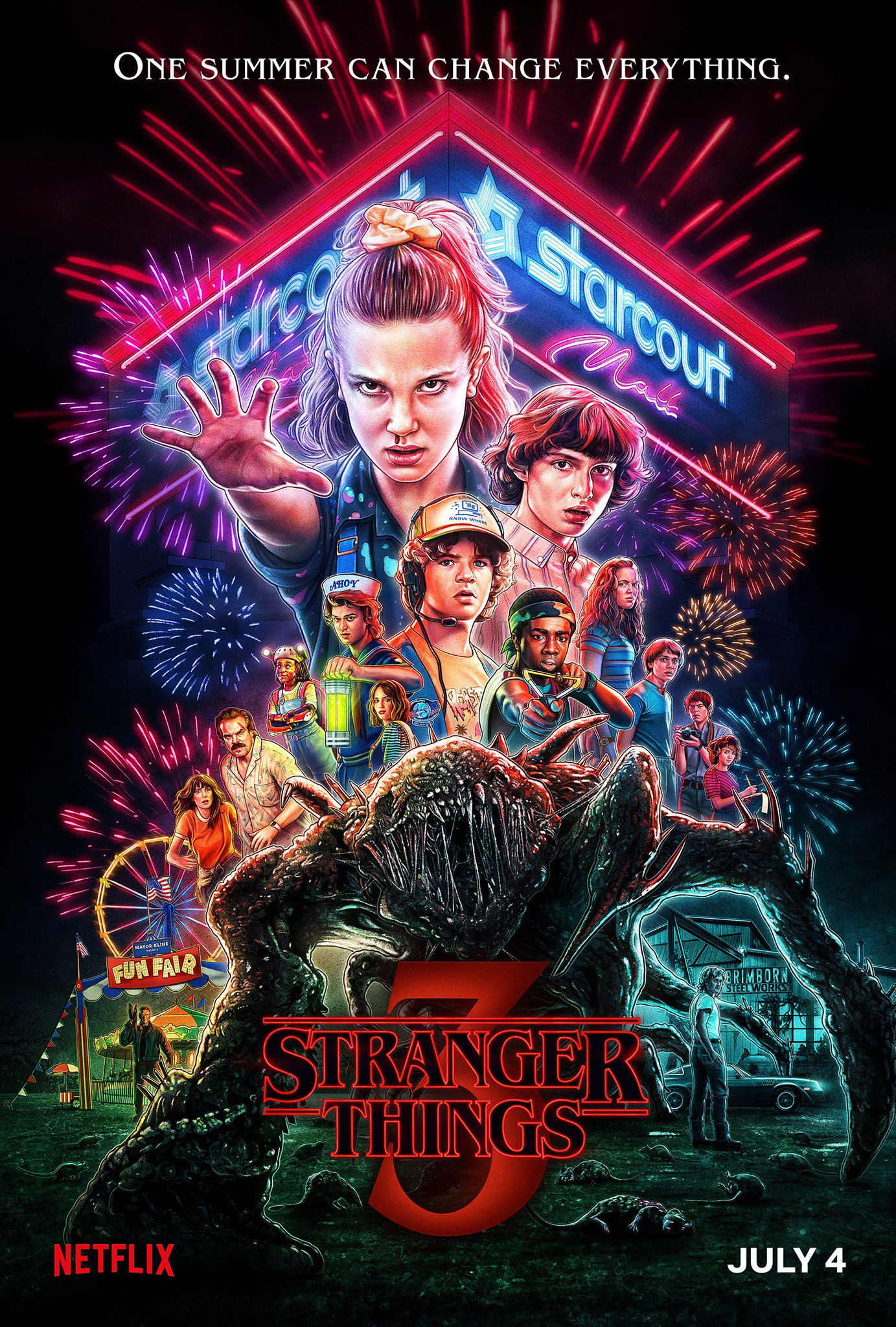 Stranger Things stars Winona Ryder, David Harbour, Finn Wolfhard, Millie Bobby Brown, Gaten Matarazzo, Caleb McLaughlin, Noah Schnapp, Natalie Dyer, Charlie Heaton, Joe Keery, Priah Ferguson, Cary Elwes, Jake Busey and Maya Thurman-Hawke.
---
Follow us on Facebook, on Twitter @GetYourComicOn, or on Instagram at GetYourComicOn. If you have a story suggestion email feedback@getyourcomicon.co.uk.