CINDERELLA (2021) Review
Lewis reviews the latest incarnation of the classic CINDERELLA fairytale praising the film for its positive message to young viewers.
Cinderella is available on Amazon Prime Video from Friday September 3.
Synopsis
Cinderella is a musically-driven bold new take on the traditional story you grew up with. Our heroine (Cabello) is an ambitious young woman whose dreams are bigger than the world will allow, but with the help of her Fab G (Billy Porter), she is able to persevere and make her dreams come true.
Review
Amazon Prime and Sony's new Cinderella adaptation, with first-time actress, Camilla Cabello as the titular character, here referred to simply as 'Ella', releases this week and, surprisingly, it's worth a go! I say surprisingly because most people, even admittedly me, dismissed this film after seeing the trailers and few released clips. However, as I settled in to watch it last night, I found myself enjoying it. Directed by Kay Cannon, director of one of my favourite recent comedies, Blockers, I wasn't sure what to expect, but Cinderella thoroughly surprised. One of the biggest surprises I've had.
It is a musical adaptation of the familiar story, and the music here is one of the standout features. Not only are the songs good but the production team made the bold decision of including pre-existing pop songs, the likes of Queen, Madonna, J-Lo songs, all pop up in the soundtrack. And it really, really worked for me; no matter what, I defy anyone to listen to The White Stripes' Seven Nation Army or Salt N Peppa's Whatta Man and not find it toe-tappingly fun. A big advantage of casting a pop-singer (and I'll delve into Cabello later) is that she is a singer. Regardless of how much (or little) you enjoy her music, she can more than hold a note, especially in a studio-recorded song. Which is a big improvement from the likes of Emma Watson, who is a fantastic actress, but in 2017's Beauty and the Beast, struggled through the musical numbers. Nicholas Galitzine, who plays Prince Richard also isn't a veteran actor but does have some singing experience and, although he isn't the best, he puts in a more than serviceable vocal performance. Other than the two leads, the only other people who have major singing roles are the non-binary Fairy Godmother, Fab-G played by Billy Porter. Porter is a Tony award-winning musical actor so his one and only song (Shining Star by Earth, Wind & Fire) was, of course, performed fantastically. And then there is Idina Menzel. The Tony award winning actress who sang the Oscar winning song Let it Go from Frozen, is one of Broadway's greatest stars and, vocally, no one in this film matches her.
The songs themselves are pretty great too, of course the pre-existing songs they chose are all classics, so it goes without saying those were good. But even the original songs were good too, Cabello's Million to One is Ella's main song throughout that gets a few reprises, it almost acts as a motif, and it's a good song, it's catchy, it's got good intentions, it's sang fairly well, and I found myself humming it once the film was over. It's the same for most other songs, too. Idina Menzel's Dream Girl is surprisingly heartfelt, and she gets a chance to flex her vocal muscles belting out the high, powerful notes. The original songs aren't brilliant, they won't win any awards, but they're no worse than many musicals, and I can look past any song-writing issues because they may not be lyrically genius, but they're catchy and fun. However, the classic songs that show up in this are the highlights. I always say: a musical could be utter rubbish, but if the music is good, I'll still have a good time. So, perhaps using mostly pre-existing hits like Janet Jackson's Rhythm Nation was Cinderella's wisest decision because everyone loves those songs, and so everyone will at the very least, enjoy the music, which means they'll have a good time, even if the film is strewn with issues.
The standout performances of the film are undoubtedly Idina Menzel, Pierce Brosnan, and Billy Porter. No-one is going for Oscar glory here and they don't need to. It's very clear that this film is for kids and the performances reflect that. They're very cartoonish and exaggerated, and it works, generally. Menzel plays the stepmother's evilness with so much fun, she's comically cruel and completely devours the role and looks like she's having so much fun abusing Ella. The interesting thing about this adaptation of Cinderella is that the Evil Stepmother is not all-loving of her two other daughters, she instils the same horrible message in all three of the daughters, she's just much crueller to Ella. Menzel gives a rare humanity to the 'Evil' Stepmother, named Vivienne in this adaptation. She knows she is being harsh, but she believes she's doing the right thing, she says it would be crueller to let Ella have a false sense of hope about the world. I am not a fan of the 'give the classic villain a sympathetic backstory' trope, but here it's done well. I actually understand why Vivienne is the way she is, however misguided. She has a moment, almost, of reconciliation with Ella; the morning after the ball they have an honest heart-to-heart and when she realises Ella snuck out to the ball, doesn't scream or get angry. She again, sits and talks. Although of course she reverts to her villainous ways because she does manipulate Ella for her own gain. Pierce Brosnan's King is also a highlight; a self-indulged narcissistic ruler has some of the best comedy. His character, like Menzel's, is cartoonishly over the top. He speaks with a much louder and deeper voice than natural to appear more kingly, he heightens his throne to be just a little taller than his wife's. Brosnan really brings the comedy here and most of it actually works. Billy Porter, though, is the personification of a scene stealer. The only issue with him is that he isn't in it enough. He has a brief 5-minute appearance and that's it. It's amazing to see a queer black man celebrated in this way. He is funny, his outfit is great, and his singing is fabulous. His appearance is brief, but it packs a punch, seeing such an unapologetically queer black character, especially in a kids' film, is incredible. Though a few lines make it painfully obvious his dialogue is written by a straight white woman.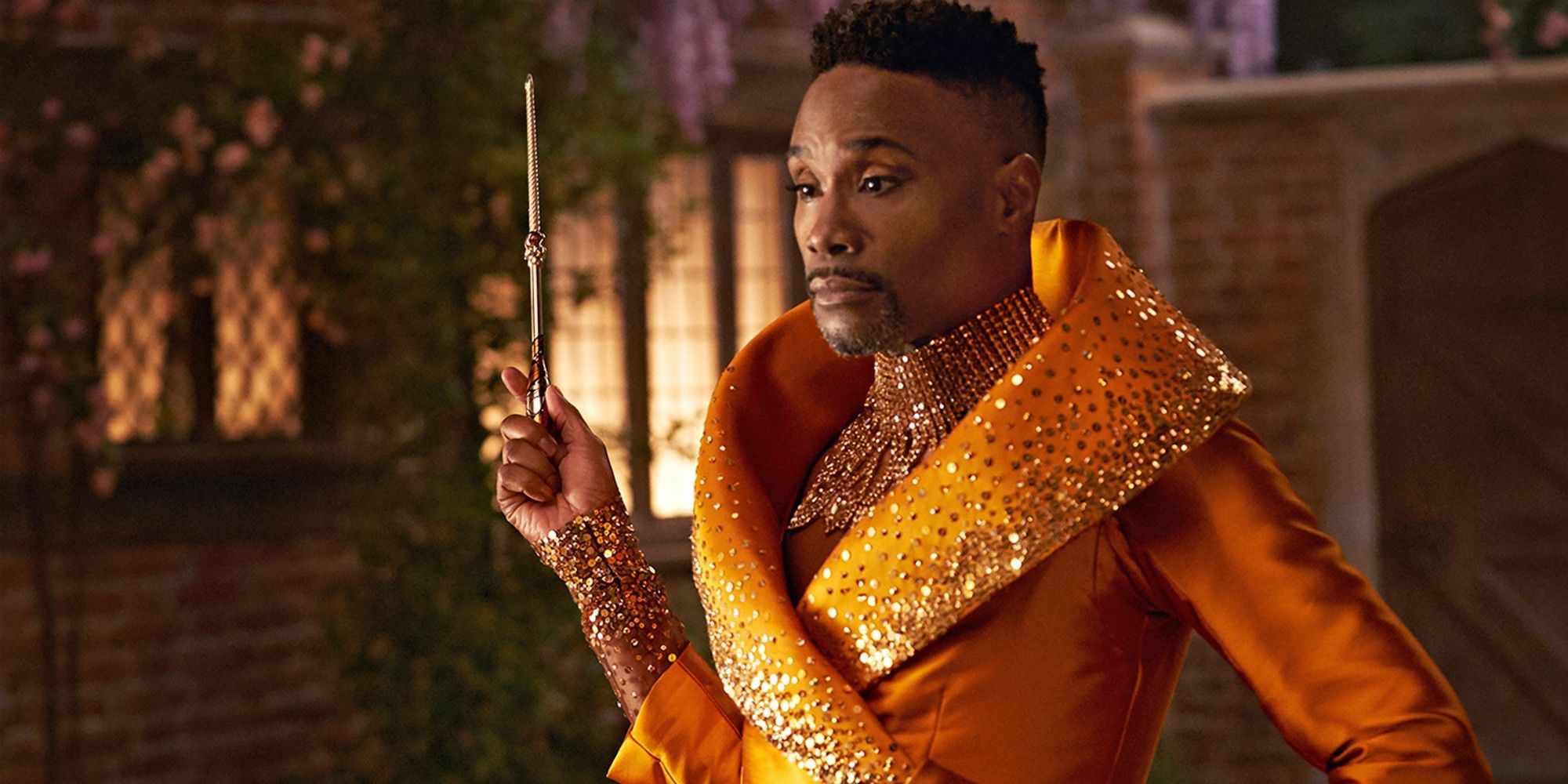 The film is, however, far from perfect. In fact, it has two massive issues. The first is the script. The script is full of out of touch jokes written by a 40-year-old trying to channel young people. Things like "when I'm really old- like when I'm 40" being said with disgust just isn't funny and there are moments where it feels like the whole film pauses for laughter that isn't there, and just never will be there. Some of the dialogue is clunky and cheesy it's far from perfect. However, the biggest issue with Amazon's Cinderella… is Cinderella. Not only is Camilla Cabello not a good role-model, having a history of being quite racist, quite often, though I won't delve into that too much as this is a review of the film and not the person, I just wanted to acknowledge it as one huge reason she should not have been cast. The other reason she should not have been cast is because she cannot act. Her performance is the weakest in a film where James Corden plays a talking mouse. That's saying a lot. She just does not have the acting chops to pull of this role, or any role for that matter. Her lacklustre performance is amplified by the shaky-at-best screenplay and clunky dialogue. When she is singing, it's fine, but when she is talking and acting and just being Ella, she really doesn't do enough. She is the title character, and she cannot carry this film, she holds it back completely. If Cinderella cast an actress who can sing (as they did with Menzel, or Porter) in the lead this film would be so much better. The character is good and has potential if a competent actress were given the opportunity. Any time Cabello isn't on the screen the film excels, but, as she is the protagonist, eventually (and unfortunately) we must cut back to her pretending to sew in a basement and not being very good at it. She handles the comedy best, and even that isn't great, and she completely takes you out of the emotional scenes. She really, really, hinders this film. I very much enjoy Cinderella but I very much didn't enjoy Cinderella.
I've got through this review, trying to not mention Disney's 1950 classic Cinderella, but it is impossible not to. It's a beloved version and no matter what this wouldn't live up to it, not that it was trying to, it's not eve comparable to its animated predecessor, and that's a really really good thing. Recently Disney have been remaking their animated classics in live action, we've had Cinderella, Dumbo, Beauty and the Beast, The Lion King, Mulan, Aladdin, and Snow White is in production now. Disney has branded this genre "reimagined classics". These are not 'reimaginings', they are straight up remakes and Disney has faced a lot of criticism for that. This version of Cinderella, though, is a true reimagining of a classic tale. It is still recognisable as Cinderella, but it's far from any other adaptation. Cinderella may be far from perfect, but at least it tries something new; I would take this every single day over another dull Disney remake.
Anyone could sit and pick apart this film for hours and explain why it isn't a masterpiece, and how it fails as a film and a part of me even agrees with that, but I bet even that person was enjoying themselves even just a little bit when Idina Menzel belts out Madonna's Material Girl, even if they don't admit it. This isn't a film to be taken seriously, so if you do you'll be disappointed. You can fall on either side of the fence and choose to focus on all the negatives, like the very rough CGI, the uninspired direction, the James Corden, the dull typical production design, the bad acting, or you can just ignore all that, look past it, succumb to the sheer silliness this has, and have a great time. You just need to let go and embrace it, warts and all. Maybe it even depends on your mood; if I were in a worse mood when I watched it, perhaps this would be an overwhelmingly scathing review. But I wasn't, so it isn't. This film was, above all else, fun. It made me feel good. It's a film for kids, and it's meant to be silly at times, and make children laugh. A lot of the humour is childish, it kind of feels like a Roald Dahl adaptation in that regard, but the target audience is kids, so kids will love it. I know the next time I see my nieces they'll be singing Janet Jackson's Rhythm Nation or Million to One; I know they'll want Cinderella's dress; I know they'll want to rewatch it endlessly (much to their mum, my sister's, annoyance). And to be honest, they should.
Verdict
This film has a much better message for young girls than any other adaptation of Cinderella I've seen, even if it isn't executed perfectly. Despite all the flaws I had fun. That's what's most important about a film; a film can be a technical marvel, but if you don't enjoy it, you will be counting down the seconds until the credits roll. None of those technicalities matter as long as you enjoy it. And I did.
---
Follow us on Facebook, on Twitter @GetYourComicOn, or on Instagram at GetYourComicOn. If you have a story suggestion email feedback@getyourcomicon.co.uk.