BATMAN #126 Review
Neil reviews the latest issue of DC Comics' BATMAN, available now in print and on digital where all good comics are sold.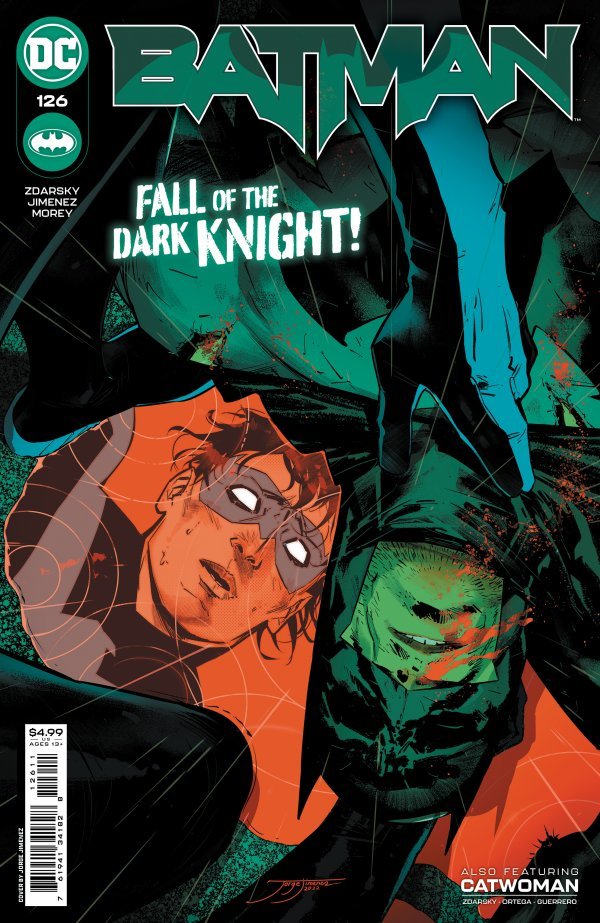 Batman #126 is published by DC Comics and written by Chip Zdarksy. Art is by Jorge Jimenez and colours by Tomeu Morey. Letters are by Clayton Cowles. The main cover art (left) is also by Jimenez and Morey.
Batman #126 is available from today in print and on digital where all good comics are sold.
Synopsis
Batman has battled all manner of criminals, monsters, and super-villains, but nothing could have prepared him for what's coming with Failsafe, an unstoppable foe that can outfight and outthink the Dark Knight—but could a dark connection to Batman's past be the answer? In the backup, Catwoman is piecing together the lineage of one of Gotham's most notorious criminal families…and it's not for the faint of heart!
Review
How do you top killing an A-list villain in the opening issue of your Batman run? If you're Chip Zdarsky, you do it by pitting Bruce and all his allies against a foe who seems to know them inside and out.
Whilst a new creative team is bound to breath fresh life in to a long-running title, Zdarsky has hit the ground running in a way that nobody could have predicted. This new "Failsafe" arc is only in its second issue and yet has proven itself to be a must-read storyline for 2022. With its combination of striking artwork by Jimenez and Morey, Batman is not only a compelling read, it's a beautiful one.
Zdarsky has proven himself time and again as one of the hottest writers in comics. But between Batman and his Batman: The Knight series he has shown the versatility required to capably handle the Dark Knight. With The Knight we see Bruce as a loner, travelling the world. In Batman #126 we see the weary Bruce leaning on his young wards to aid him in battle. The issue opens with a wonderfully poignant monologue from Bruce. He laments how these children, his soldiers, suit up each night to fight for him. Then we see just how much Batman needs his allies.
There are two schools of though with Batman's supporting cast. One will see it as a crutch, used to hold up an over-exposed lead. The other, where I fall, see Zdarsky striking direct to the core of what makes Gotham a fascinating location in the DCU. Who wants to be deprived of seeing Nightwing drive his motorcycle over the Batmobile to explosive results? Or of seeing the excellent Oracle coordinating the team from her clocktower? The writing harkens back to the golden-age of my lifetime and I'm here for it.
For the time being Zdarsky is staying away from the a-list villains. Penguin's appearance in issue #125 served as a jumping off point for "Failsafe", but now we're in original territory. The unknown often proves to be the most exciting on a book like Batman and that's certainly the truth here.
Of course it helps to have one of the hottest artists in comics drawing your book. Jorge Jimenez and James Tynion IV proved a strong due to take on Batman. Zdarsky and Jimenez, with colourist Morey, are quickly hitting the stratosphere. The mix of action and character is hitting all of Jimenez's sweet spots and I smell Eisner nominations in their future.
No good comic should leave the reader without wanting more. A final splash-page teaser certainly acts as a massive jumping off point for what comes next… Zur-En-Arrh?
Verdict
Two months in to his run on the main-Bat title and Dzarsky has delivered a blockbuster issue. His sizzling story is beautifully accompanied by the unparalleled team of artist Jimenez and colourist Morey.
⭐⭐⭐⭐⭐