MAGIC: THE HIDDEN PLANESWALKER #1
Dave reviews the first issue of BOOM! Studios' MAGIC: THE HIDDEN PLANESWALKER, available now in print and on digital.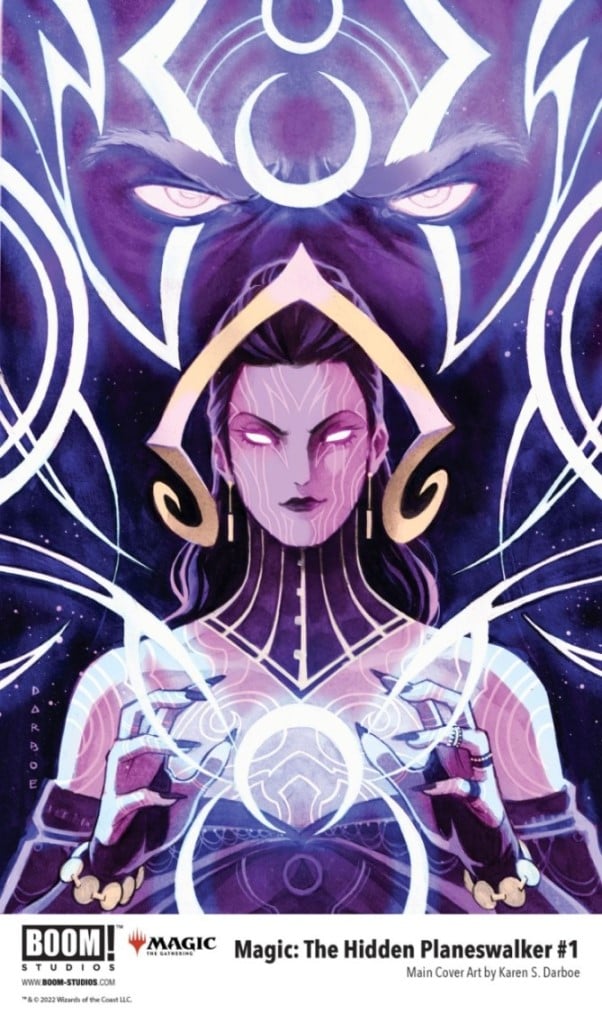 Magic: The Hidden Planeswalker #1 is published by BOOM! Studios, written by Mairghread Scott, illustrated by Fabiana Mascolo, coloured by Francesco Segala and lettered by Ed Dukeshire.
Issue #1 is available 20th April 2022 either directly from Boom! Studios online or from your local comic book store, digital copies will be available to download from the usual content providers.
Synopsis
While our heroes have many dangers to face throughout the multiverse, the powerful Necromancer Liliana Vess returns to her new home as a professor at the greatest college of magic in the Multiverse. But she doesn't return alone. Sensing the presence of a distant planeswalker calling for help… one with the power to save, or destroy, entire planes, puts her on a collision course with the diabolical machinations of the Tezzeret, the Master of Metal…
Review
In this issue we take break from the main arc and take a look at a different story from the Magic universe by exploring the story of Necromancer Liliana Vess, the most powerful mage back to give her knowledge to the younger generation. But as this is a Magic story you should be used to the fact by now that things just don't run smoothly in this multiverse, Liliana must seek out the voice she senses that greatly needs her help, although this could spell trouble as courses are set to collide with the Master of Metal himself Tezzeret. Does Liliana have the power to help the Planeswalker in need or need she concentrate more on the threat of Tezzeret, one thing's for sure this arc has definitely started something now.
This issue has been a bit of an introduction for me to the workings of Mairghread Scott. I found her words spellbinding as they weaved a magical tale that is set to turn quite darker in coming issues. It was brave to take a popular comic arc and take it on a bit of an off shoot but it works and works well, injecting new life into an established story by bringing in new characters and new ideas which blend seamlessly I to the main multiverse, I'm looking forward to see how this arc expands.
Fabiana Mascolo provides the illustrations which hypnotise you when you open the book and doesn't let go until the end, a powerful story needs illustrations to go with it and Fabiana has definitely stepped up to the plate supplying deep and dramatic tones to help build the overall feel of the story. Colours are by Francesco Segala who brings an almost mystical feel to the book with bright colours and deep shading that highlights the dramatic illustrations really well.
Verdict
A slow burning beginning to the Planeswalker arc. As a fan of BOOM!'s Magic universe I really hope to see Planeswalker evolve in to another compelling storyline.
⭐⭐⭐