Who Is DC LEAGUE OF SUPER-PETS' Krypto The Superdog?
Get to know the Man of Steel's faithful animal side-kick Krypto ahead of the release of Warner Bros. DC LEAGUE OF SUPER-PETS on 29/7.
We're just a week away from the release of Warner Bros. latest animated adventure DC League of Super-Pets. The film is set to explore the animal side of the DC Universe, shining a light on a number of family friendly characters who have yet to make it to the big screen.
Chief amongst them is Krypto the Superdog, voiced in the film by Dwayne Johnson. But who is Krypto and when did he first appear in the pages of DC Comics? What's his favourite doggie treat? And does he have an arch nemesis? Today we're taking a closer look at the Man of Steel's best friend and uncovering the comic origins of this canine hero for the ages!
Origins
Krypto first appeared in the pages of Adventure Comics #210 all the way back in March 1955. The character was created by writer Otto Binder and penciller Curt Swan. Krypto was originally created for a one-off appearance in a story starring Superboy. But his debut was a hit with readers and spurred on the editors to bring him back for further stories.
In his fictional biography, Krypto is the childhood pet of baby Kal-El ahead of the destruction of Krypton. It was explained that animals such as cats, dogs and bird had evolved on Krypton in parallel to their evolution on Earth. Much like humans, Kryptonians had begun keeping animals as pets.
With the destruction of their planet looming, Jor-El used Krypto as a test subject for one of his rockets which would eventually carry the baby Kal-El to Earth. Unfortunately Krytpo's pod was knocked off-course and drifted through the galaxy for a number of years before eventually arriving at its intended destination.
On Earth, Krypton would often live on the Kent Farm and go by the name Skip. Hiding his true identity as the Canine of Steel.
Over the years his origin has been written and re-written but one aspect always remains constant. Krypto and Superman have a strong connection which makes him the perfect companion for the Man of Steel.
Powers & Abilities
The first incarnation of Krypto had many of the same powers as Superman himself, albeit in proportion to his size. He couldn't necessarily take down Lex Luthor in his armoured suit but his strength would make him a formidable foe for any villain. Of course, being a dog also means that Krypto has superhuman senses beyond that of Superman, particularly his sense of smell.
Some incarnations of the character depict him with human-level intelligence making him the perfect leader for an animal Justice League. The current era of DC Comics has retconned this and instead portrays the hero with the intelligence of a normal canine. But this never detracts from his missions to protect the people of Earth from evil.
A Hero For All Ages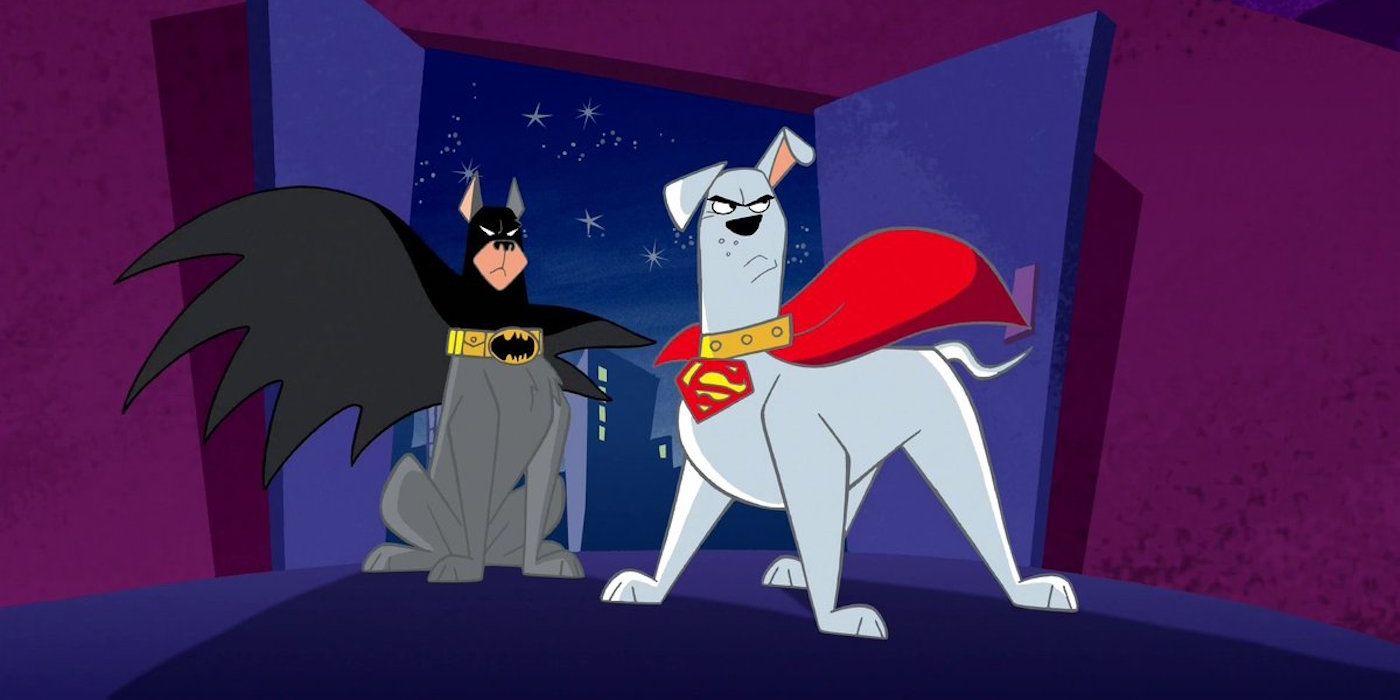 Though DC League of Super-Pets is Krypto's first starring role on the big screen, the character has appeared in a number of other series, games and direct-to-video movies across his 65 year history.
On television he has appeared as a sidekick to Superboy in The Adventures of Superboy in 1966. A puppy version of the character also appeared in the pilot episode of Bruce Timm's Superman: The Animated Series back in 1996, though his name is never mentioned on screen. A version of the character also appears in the Justice League Unlimited episode "For the Man Who Has Everything" as the pet of Superman's imaged some Van-El.
Krypto had his own animated series in which he was voiced by Sam Vincent. The series began airing in the US on Cartoon Network in March of 2005. The series ran for two seasons and a total of 39 episodes. It would also star a number of supporting characters who will follow Krypto to the big screen in Super-Pets. This version of Krypto shares the origin of the original comic book version of Krypto, having been launched by Jor-El from Krypton in a similar turn of events, but he did not arrive till after Superman was already grown.
A version of the character appears in the Smallville episode "Krypto" but with a reduced power set compared to his comic book counterpart. He is also a series recurring character on Titans, making his debut in a post-credit scene in season one alongside Superboy. The character would go on to make regular appearances in seasons 2 and 3.
In DC's hugely successful line of direct-to-video animated movies, Krypto has appeared in Superman/Batman: Apocalypse in which Kara Zor-El makes her first appearance on Earth. He also plays a role in Teen Titans Go! To The Movies as he appears as one of the many heroes – apart from Robin – to be given their own movie.
DC League of Super-Pets stars Dwayne 'The Rock' Johnson as the voice of Krypto. Also lending their vocal talents to the film are Kevin Hart, Vanessa Bayer, Natasha Lyonne, Diego Luna, John Krasinski, Keanu Reeves, Kate McKinnon, Marc Maron, Dascha Polanco, Ben Schwartz, Jameela Jamie and Thomas Middleditch.
The film releases in UK cinemas on July 29, 2022.