POWER RANGERS #20 Review
Dave reviews the latest issue of BOOM! Studios' POWER RANGERS, available now in print and on digital where all good comics are sold.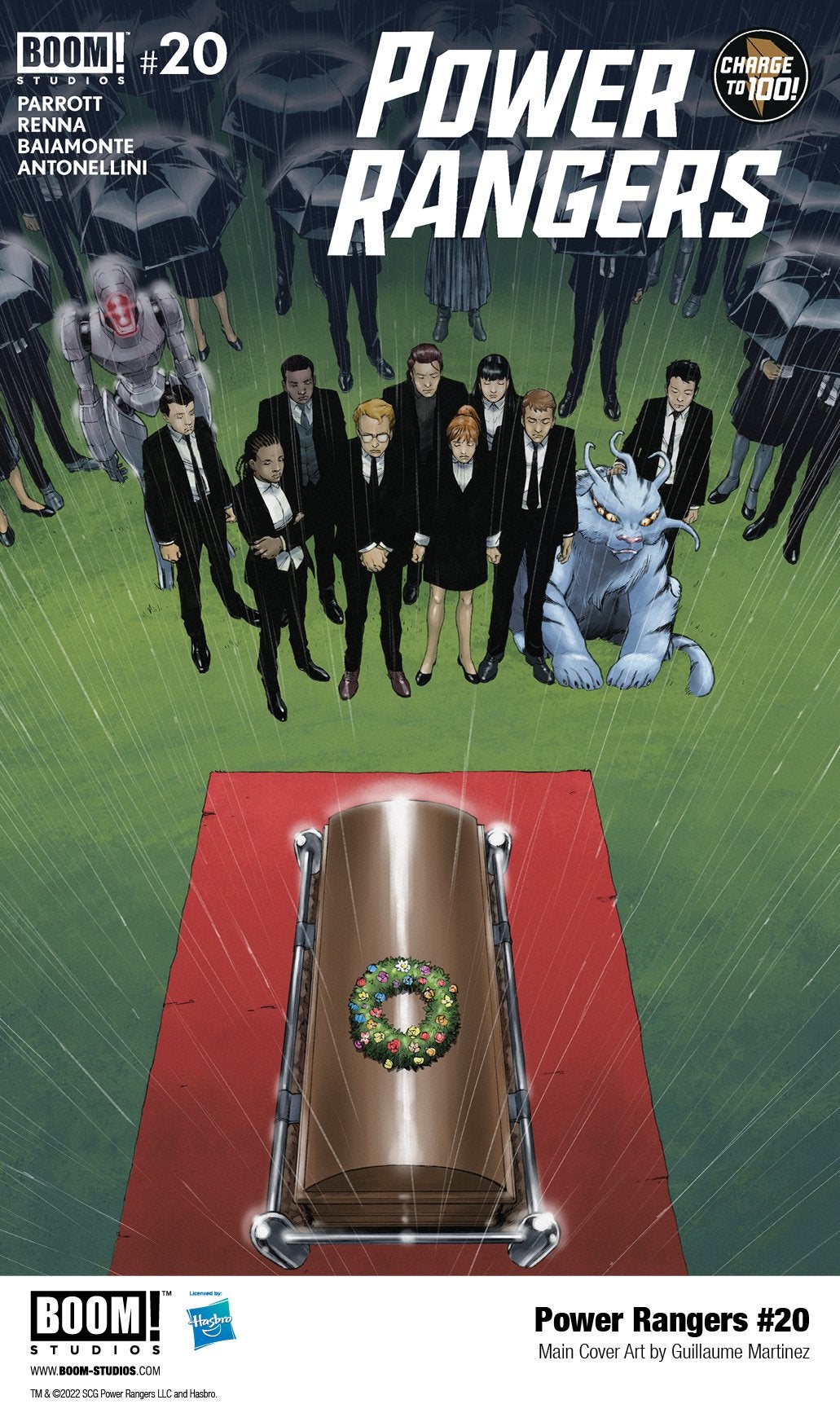 Power Rangers #20 is published by BOOM! Studios, written by Ryan Parrott, illustrated by Marco Renna, coloured by Walter Baiamonte and lettered by Ed Dukeshire.
Issue #20 is available now either directly from BOOM! Studios online or from your local comic book store, digital copies will be available to download from the usual content providers.
Synopsis
In the wake of tragedy, the Omega Rangers return to Angel Grove to reunite with some familiar faces from their past. Jason finds himself confronted by the nearly impossible challenge of balancing his life as a Ranger, and his responsibilities to his family. Meanwhile back on Safehaven, Andros and Xi interrogate a Xurix soldier for information on the attack of KO-35 – but what is Andros really looking for? And will Xi be able to handle it alone? What horrors are sealed inside of the ancient container buried deep within the OMEGA VAULT?
Review
In this emotionally charged issue we see the Omega Rangers returning to Angel Grove to reunite with the others, but Jason is struggling his head is all over the place after the death of his mother the only person he believed truly cared about him and the only person he cared about. For the most part of the comic we stay with Jason as he struggles to balance his personal life with the life of a Ranger but he wants to continue it might be just the question of is he mentally strong enough?
Andros and Xi begin the interrogation of a Xurix soldier to get hold of the vital intel they need to get the answers behind the attacks, but is that all Andros wants from this soldier? Voices are heard from deep within the Omega Vault the voice sounds friendly enough but it could be a trap, what other horrors are about to be unleashed? Are the Rangers prepared? Also do they have the strength after the last attack? I guess we are about to find out.
Ryan Parrott for me is Power Rangers, he just gets the whole cult fan expectations and like the postman does he just keeps on delivering with each issue. Not only do you get action packed issues you get ones like this one that is more of an indept thinking read that really invests you in to the book, an incredible skill in writing.
The illustrations once again from Walter Baiamonte are strikingly powerful hitting home the story that Ryan has written and adding more dimension and depth creating a more well round book that covers all the necessary bases needed.
Verdict
Once again a full mark score has to be given to this book, a creative masterpiece created by the best team in the business. A powerful and thought driven story that will leave you thinking about it in you head after you've finished, a great piece of writing that no Power Rangers fan should miss.
⭐⭐⭐⭐⭐