DC IN CONCERT: Experience The Music Of The DC Universe Like Never Before
Get transported to the DC Universe and experience the epic music from DC's most iconic and upcoming releases!
This is an exciting announcement from the DC universe. So, soundtracks have always been there. However, it seems as though more people are paying closer attention to the music from films that they love. After all, music helps set the tone, elicit various emotions, and create those huge larger-than-life moments. From the likes of Hans Zimmer, John Williams, Ludwig Göransson, John Powell, Ramin Djawadi, and countless others, film scores have become major talking points. So much so that we can actually enjoy watching our favourite film with a mighty orchestra playing the music live… And what an experience it is.
Whenever an opportunity arises to experience a film in concert, just go for it. Even though you're watching a film that you've probably seen countless times, seeing a live orchestra is a completely different experience. Recently, it was announced that DC would be exploring the realm of "Film Concerts" with an upcoming program that aims to bring past and current blockbuster DC films to arenas around the world, all with their iconic scores performed live.
While no concerts have been officially confirmed yet, it appears as though DC may have their first concerts planned. The upcoming tour could start with releases such as Batman (1989), Justice League (2017), and The Batman (2022). Then, in the future we could get shows revolving around the upcoming wave of DC films like Black Adam, The Flash, and Aquaman And The Lost Kingdom.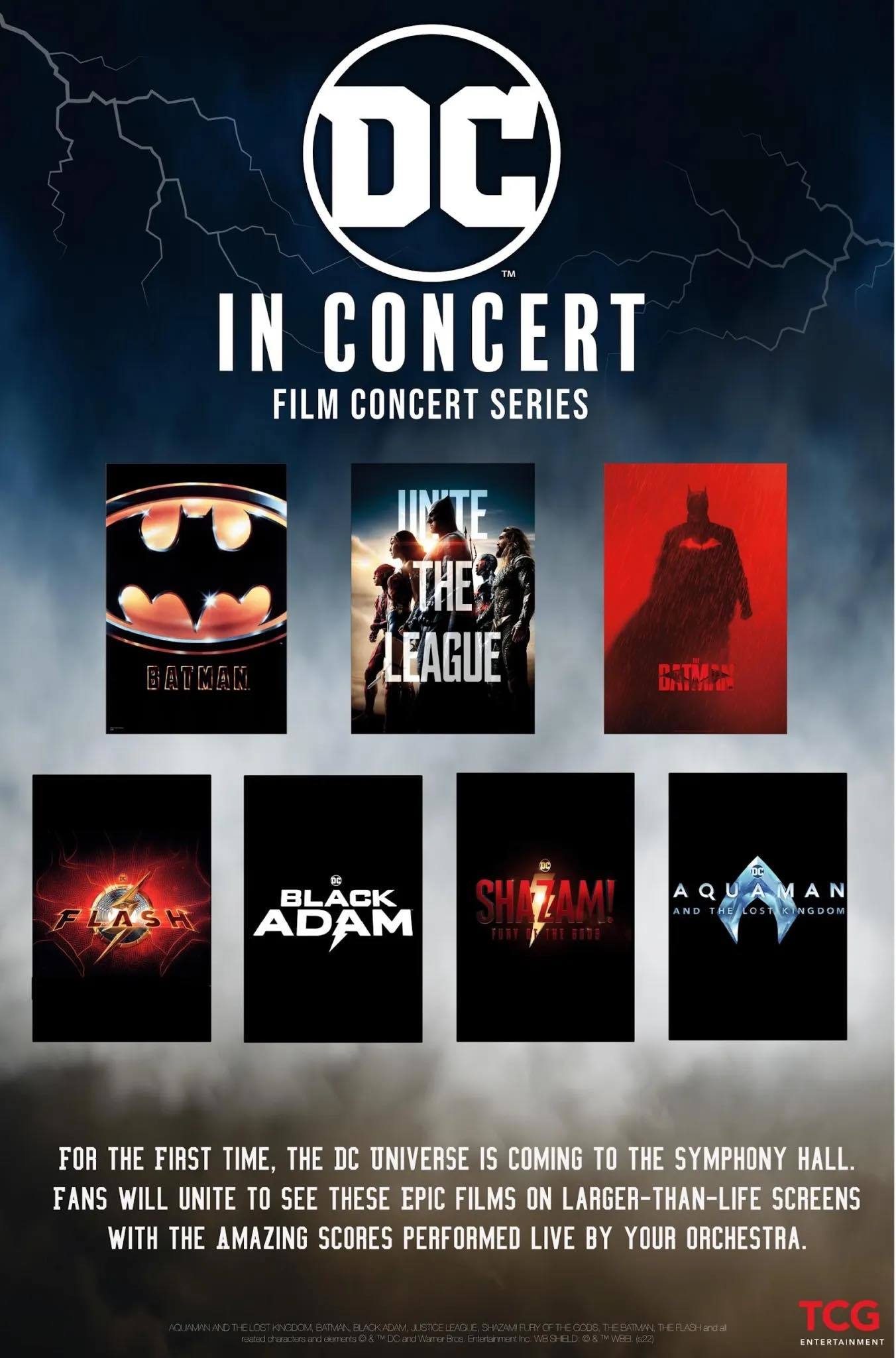 "DC films are global sensations, inspiring audiences and millions of fans around the world with captivating storytelling, characters, and music," said Peter van Roden, Senior Vice President, Warner Bros. Themed Entertainment. "The films in this series are some of the most recognizable from the DC Universe and we're looking forward to taking the cinematic experience to the next level, giving fans a whole new way to experience the scope of their favorite DC movies with the iconic scores being performed live."
Now that we know that the various DC films will be coming to us live, which superhero film would you like to see in concert? Man of Steel and The Dark Knight would definitely be at the top of our list. The inclusion of the 2017 version of Justice League is an interesting one. While seeing Zack Snyder's version live seems unlikely, 2017's Justice League didn't really have a memorable score despite it being composed by Danny Elfman. Considering the following surrounding the Snyder Cut, it'll be interesting to see how this develops.
DC themed concerts are coming and we can't wait. Be sure to keep your eyes peeled as we wait for more information. Schedules are set to be released later this year, but for now you can go ahead and visit TCG Entertainment for more information.