POWER RANGERS UNIVERSE #5 Review
Dave reviews the latest issue of BOOM! Studios' POWER RANGERS UNIVERSE, available now in print and on digital where all good comics are sold.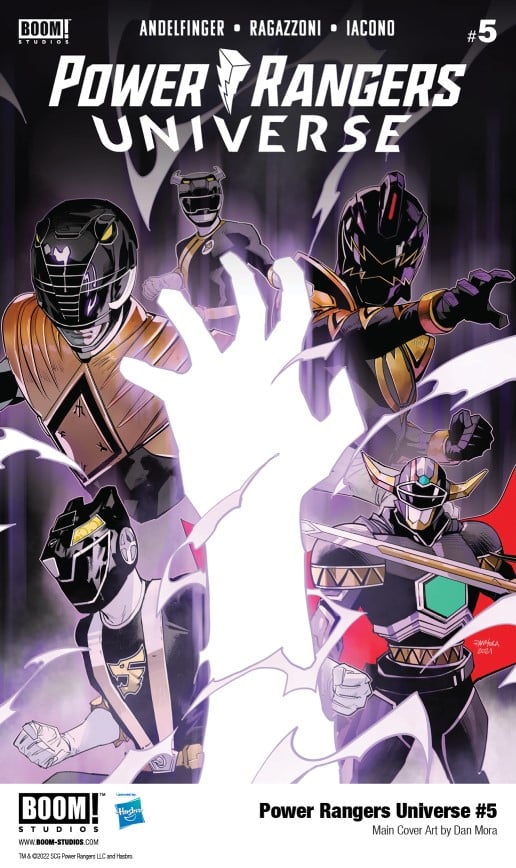 Power Rangers Universe #5 is published by BOOM! Studios, written by Nicole Andelfinger, illustrated by Simone Ragazzoni, coloured by Mattia Iacono and lettered by Ed Dukeshire.
Issue #5 is available now either directly from Boom! Studios online or from your local comic book store, digital copies will be available to download from the usual content providers.
Synopsis
On the Masterforge, the Morphin Master Teens and the Morphinaut feel the aftershock of the smoking crater on Earth's surface. At the mysterious crash site, their new powers and skillsets are put to the test against a horde of Foot Soldiers! But what happens when their powers start to fail… and even begin to turn against them?
Review
In this penultimate issue we see the Rangers in their new found morphed identities, feeling the new powers the suits bring but to try out the suits they have a never ending onslaught to deal with as the Dark Spectre's attack intensifies as he attempts to take over the world and universe. As Dark Spectre begins to take his hold the Rangers begin to turn on each other, it's the fear and emotion that Dark Spectre feeds from they must fight it this is what Dark Spectre wants, can they fight the fight? Do they have enough power? Can the Phantom Ranger step in? One thing's for sure the final issue is going to be epic.
Nicole Andelfinger has a unique way of writing that grips you throughout, I have been gripped on this arc from the beginning. With writing that has been evolving from the first issue into something far more epic than what I could've imagined.
The artistic team of Simone Ragazzoni and Mattia Iacono have brought intense illustrations and vibrant colours that not only brings the pages to life it provides more of a visual impact when your eyes hit the page creating a visual experience like no other.
Throughout this series I've enjoyed seeing the character of the Phantom Ranger grow in importance and the Power Rangers finding their new found powers was certainly and interesting arc to explore
Verdict
As a series I found it was a bit of a slower burn that the other Power Rangers series but it is beginning to evolve into more of an epic title, learning the origins pf the Rangers was fascinating and the series felt enjoyable throughout, the final issue is set to be an epic ending to a series that has grown with each issue.
⭐⭐⭐⭐