THE BAD BATCH 1×01 "Aftermath" review
Star Wars: The Bad Batch episode 1 "Aftermath" will be available from May 4th- Star Wars day!
Star Wars day is here and we all know what that means. That's right, Star Wars: The Bad Batch is finally here. Grab some drinks, snacks, and don your best Star Wars attire and sit down for the 70 minute premiere episode of The Bad Batch. The series follows the elite and experimental clones of the Bad Batch as they navigate their way through a rapidly changing galaxy that is dealing with the aftermath of the Clone Wars. Funnily enough, that's the title of this episode- "Aftermath".
I think one of the biggest things to take away from this premiere episode, which The Clone Wars touched upon slightly, is the arrival of the Empire. We actually get to see the immediate aftermath of Order 66. We can see how the Clones have changed thanks to their inhibitor chips, and we can see how the Empire are gradually reforming the galaxy which includes their mass army. Most of the time, we tend to just see the arrival of the enemy whether it be the Empire or First Order. But this time we actually get see how the Empire governed and integrated new rules and legislation.
Admiral Tarkin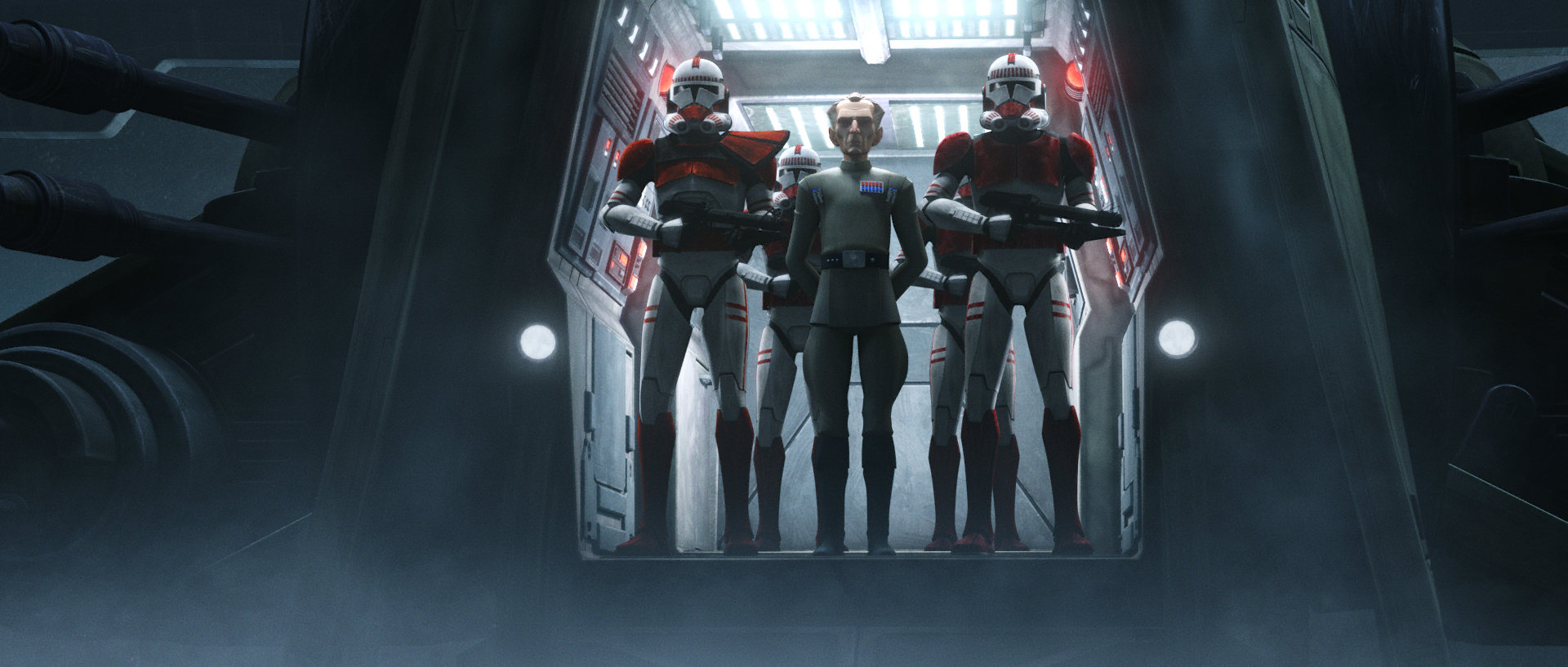 The Bad Batch are used to help us navigate these changes. Well, that's what I originally thought. But the show goes further than just showing us how the Empire took over. The Bad Batch become heavily involved in ideas surrounding loyalty. Despite them being defective clones, they're still loyal to their cause so this is an incredibly disorienting time for them and it actually causes some internal conflict.
It seems like that conflict will follow the Bad Batch throughout the series so I'm incredibly interested to see how it develops since it feels a lot more personal. We're dealing with a group of brothers who are bound together by their differences. Suddenly their bond becomes somewhat strained by the unknown. They're not sure who to trust and they're not even sure what's happening. Plus there are a few surprises in store. A few of those surprises help set the overall tone of the show and tease what we can expect next. Unfortunately, it's safe to say that there will be some dire ramifications on the horizon.
One of the aspects that always kept me glued to the screen was the animation. Season 7 of The Clone Wars went above and beyond in comparison to the previous seasons so it was so nice to see the return of that newly improved and crisp animation. It suits The Bad Batch incredibly well especially since the group have their own unorthodox way of dealing with conflict and the first episode does an excellent job at letting the Bad Batch do what they do best. The action is fun, imaginative and unique. While we have seen so much Clone action in The Clone Wars, we've never seen anything quite like this. What works really well, especially for this episode, is that we get to see each member in action.
While each member is definitely a character in their own right, it's really nice seeing them differentiate physically and not just in terms of their looks but their movement as well. Wrecker has his own style just like Tech has his. It allows for some playful banter between the comrades and some really cool teamwork that only Clone Force 99 could pull off. This is just episode one by the way, who knows what they'll be up to next.
Crosshair, Echo, Wrecker, Hunter, and Tech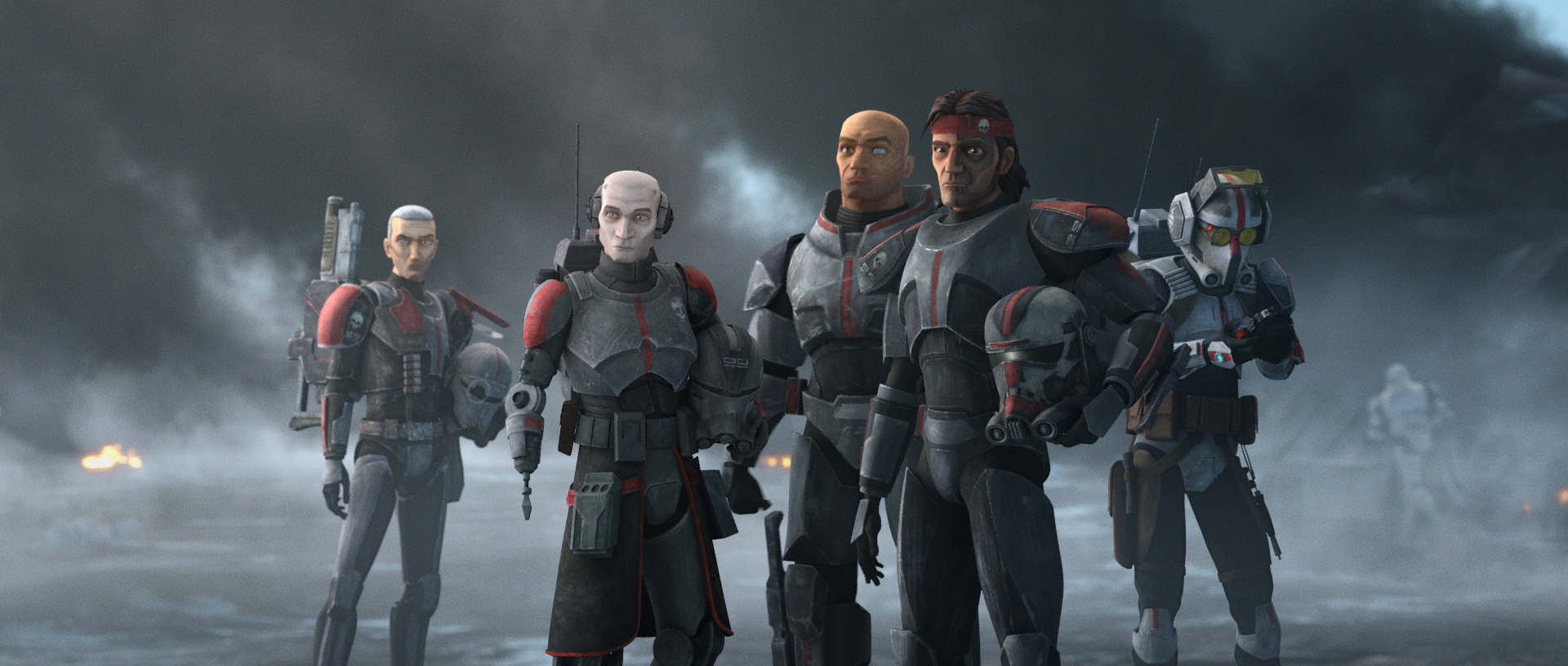 One thing that I think The Bad Batch has over The Clone Wars is that technically we're in uncharted territory. With The Clone Wars, there was always an endgame and that endgame was Order 66. Now, it's hard to predict what kind of trouble the Bad Batch will run into. However, the show is building towards something that has real potential. Cloning and the Kaminoans have played a big role in Star Wars, yet they've always been shrouded in mystery. The Bad Batch seems to be ready to explore those mysteries. All I can say is that the Bad Batch's new friend Omega definitely has a big role to play. What that role is is an utter mystery but it could help shape the series and launch it in a new direction.
"Aftermath" was a fantastic start for Disney+'s new series. A lot of Star Wars fans are going to be incredibly happy to see a continuation of The Clone Wars. Filled with epic action, plenty of laughs, some surprising cameos, and an incredibly intriguing plot, episode one of The Bad Batch will leave Star Wars fans desperate to know what's next for Clone Force 99. Unfortunately you'll have to wait until Friday.
Star Wars: The Bad Batch episode 1 "Aftermath" is be available from May 4th- Star Wars day. What did you think of today's episode? Let us know in the comments.
Star Wars: The Bad Batch will see the return of Dave Filoni as the executive producer, alongside Athena Portillo (Star Wars: The Clone Wars, Star Wars Rebels), Brad Rau (Star Wars Rebels, Star Wars Resistance) and Jennifer Corbett (Star Wars Resistance, NCIS) with Carrie Beck (The Mandalorian, Star Wars Rebels) as co-executive producer and Josh Rimes as producer (Star Wars Resistance). Rau is also serving as supervising director with Corbett as head writer.
---
Follow us on Facebook, on Twitter @GetYourComicOn, or on Instagram at GetYourComicOn. If you have a story suggestion email feedback@getyourcomicon.co.uk.