Dark Horse confirms new LEGEND OF KORRA: TURF WARS live reading
Voice Actors from The Legend of Korra Animated Series Return for a Live Reading from The Legend of Korra: Turf Wars Part One!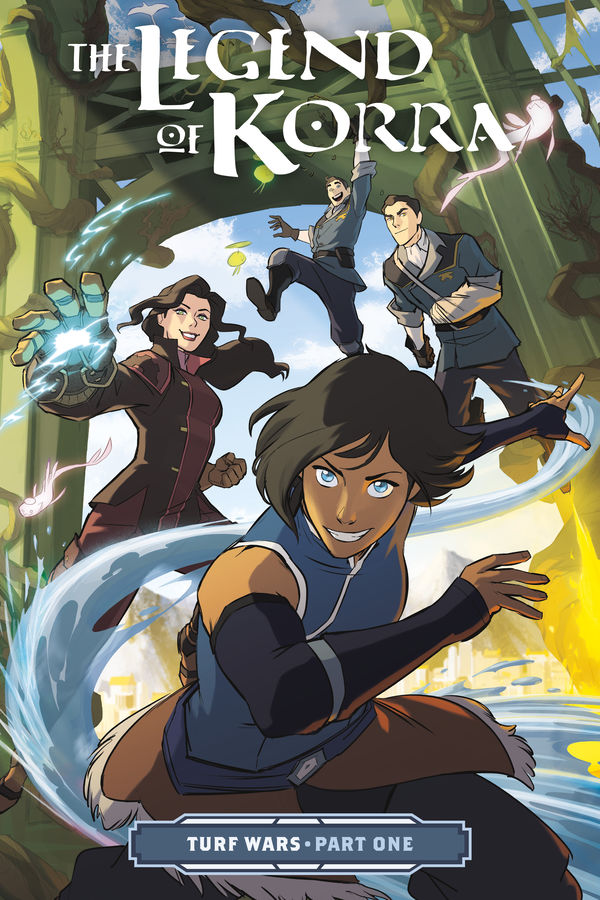 Following the successful live table read from The Legend of Korra: Turf Wars Part One in April by voice actors Janet Varney and Seychelle Gabriel, Dark Horse is excited to welcome the voice actors for a second live reading from the comics!
On Wednesday, May 27, 2020 starting at 2 pm PT (10 pm BST), Varney (Korra) and Gabriel (Asami) will be joined by P.J. Byrne (Bolin), David Faustino (Makko), and Mindy Sterling (Lin Beifong), fellow cast members of Nickelodeon's The Legend of Korra animated series. This reading from The Legend of Korra: Turf Wars Part One will pick up where the previous left off, covering the next several chapters of the graphic novel, and will be broadcast on Dark Horse's Twitch channel: twitch.tv/darkhorsecomics. 
Fans are invited to ask questions about The Legend of Korra in the live stream chat. Following the live reading, a moderated Q&A session will take place with the actors.
During the stream, Dark Horse will give away a prize pack including one copy of The Legend of Korra: Turf Wars Library Edition. Participants must enter during the live broadcast in the stream chat (instructions will be given during the broadcast). One entry per person/Twitch account. Full rules and disclaimer below.
The recorded video of the live session will be available on Twitch following the live broadcast, and a closed-caption version will be made available on YouTube for later viewing as well.
About The Legend of Korra and Avatar: The Last Airbender Graphic Novels

Dark Horse's award-winning Avatar: The Last Airbender program has seen multiple number-one New York Timesbestsellers and continues to grow. The Legend of Korra: Ruins of the Empire Parts 1-3 is the latest series in an ongoing partnership between Nickelodeon and Dark Horse to bring fans the very best in graphic novels. See all books in this program so far here >>
The book featured in the live reading is the first of Dark Horse's Korra graphic novels, The Legend of Korra: Turf Wars Part 1, published in summer 2017.
This three-part graphic novel series is written by Nickelodeon TV series co-creator and executive producer Michael Dante DiMartino, drawn by Irene Koh, with covers by Koh and Heather Campbell, and consultation by TV series co-creator and executive producer Bryan Konietzko.
Turf Wars begins with Korra and Asami leaving the spirit world and returning to Republic City only to find political hijinks and human vs. spirit conflict, as a pompous developer plans to turn the new spirit portal into an amusement park, potentially severing an already tumultuous connection with the spirits. In order to get through it all, Korra and Asami vow to look out for each other—but first, they've got to get better at being a team. 
The Legend of Korra: Turf Wars Parts 1–3 serve as the official continuation of The Legend of Korra television series, and all volumes are available now through comic shops and book retailers.
---
Follow us on Facebook, on Twitter @GetYourComicOn, or on Instagram at GetYourComicOn. If you have a story suggestion email feedback@getyourcomicon.co.uk.