Dark Horse Comics has announced an exciting new project based on the original screenplay for Alien. Writer Cristiano Seixas and artist Guilherme Balbi have teamed up to adapt the screenplay in to a five-issue miniseries.
Get all the details on the new series in the press release below.
---
EXPERIENCE THE TERROR OF "ALIEN: THE ORIGINAL SCREENPLAY"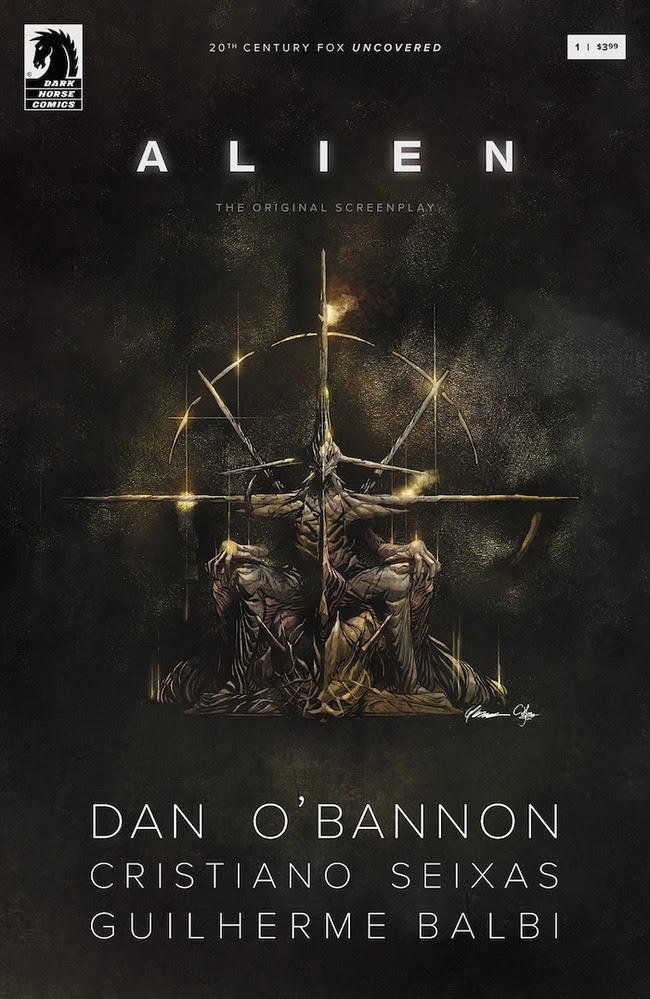 AN ALL NEW ALIEN
Dark Horse Comics and Twentieth Century Fox, with writer Cristiano Seixas, artist Guilherme Balbi (Predators, Superboy), and colorist Candice Han, adapted from the screenplay written by Dan O'Bannon, brings you Alien: The Original Screenplay.
Alien: The Original Screenplay presents an alternate line of events initially conceived by Dan O'Bannon before it became the Alien motion picture manuscript.
En route to back to Earth, the crew of the starship Snark intercepts an alien transmission. Their investigation leads them to a desolate planetoid, a crashed alien spacecraft, and a pyramidic structure of unknown origin. Then the terror begins . . .
Alien: The Original Screenplay #1 (of five) goes on sale April 22, 2020, just in time for Alien Day celebrated on April 26th! Alien: The Original Screenplay is available for pre-order at your local comic shop.
Praise for William Gibson's Alien 3: The Unproduced Screenplay: "If you're a fan of the Alien franchise or you're a fan of the Aliencomics, there's enough here to get people excited."–The Fandom Post
"I just love big 'what ifs' when it comes to unproduced screenplays. Johnnie Christmas' adaptation of William Gibson's unproduced Alien 3 screenplay was such a…a very compelling look at what the movie might've been and would've looked like if handled by the father of cyberpunk."–The Beat
"Cinema's loss is comic books' gain in William Gibson's Alien 3."–Newsarama
---
Follow us on Facebook, on Twitter @GetYourComicOn, or on Instagram at GetYourComicOn. If you have a story suggestion email feedback@getyourcomicon.co.uk.