NYCC: DARK HORSE announces THE NEIL GAIMAN LIBRARY COLLECTION
Another of Dark Horse Comics huge announcements from New York Comic Con was the upcoming release of The Neil Gaiman Library Volume 1. Following the convention the publisher has released further information on the release:
All your favorite Neil Gaiman graphic novel adaptations will be available in deluxe, hardcover compendiums!
Deluxe oversized collections of comic stories from celebrated and award-winning writer Neil Gaiman, in conjunction with some of comics' most acclaimed creators will soon arrive in comic shops and bookstores beginning in 2020 with The Neil Gaiman Library Volume 1.
Four essential Gaiman tales will be collected in the 336-page hardcover, A Study in Emerald, Murder Mysteries, How to Talk to Girls at Parties, and Forbidden Brides of the Faceless Slaves in the Secret House of the Night of Dread Desire. A familiar detective finds himself at the heart of a Lovecraftian nightmare on Baker Street, a strange man delves into the heartbreaking mystery of a divine murder in paradise, teenage boys find that approaching girls can lead to more danger than romance, and a verbose gothic writer finds his true calling amidst family duels and drudgery. These fantastic stories will be accompanied by a new cover art from creator Fábio Moon.
The Neil Gaiman Library Volume 1 features work from some of comics greatest artists and colorists including P. Craig Russell, Rafael Albuquerque, Fábio Moon, Gabriel Bá Rafael Albuquerque, Shane Oakley, Lovern Kindzierski, Dave Stewart, and Nick Filardi, alongside letterers Galen Showman and Todd Klein.
The Neil Gaiman Library Volume 1 arrives in comic shops May 27, 2020, and bookstores June 9, 2020 for $49.99. The collection can be preordered on Amazon, Barnes & Noble, and your local comic shop.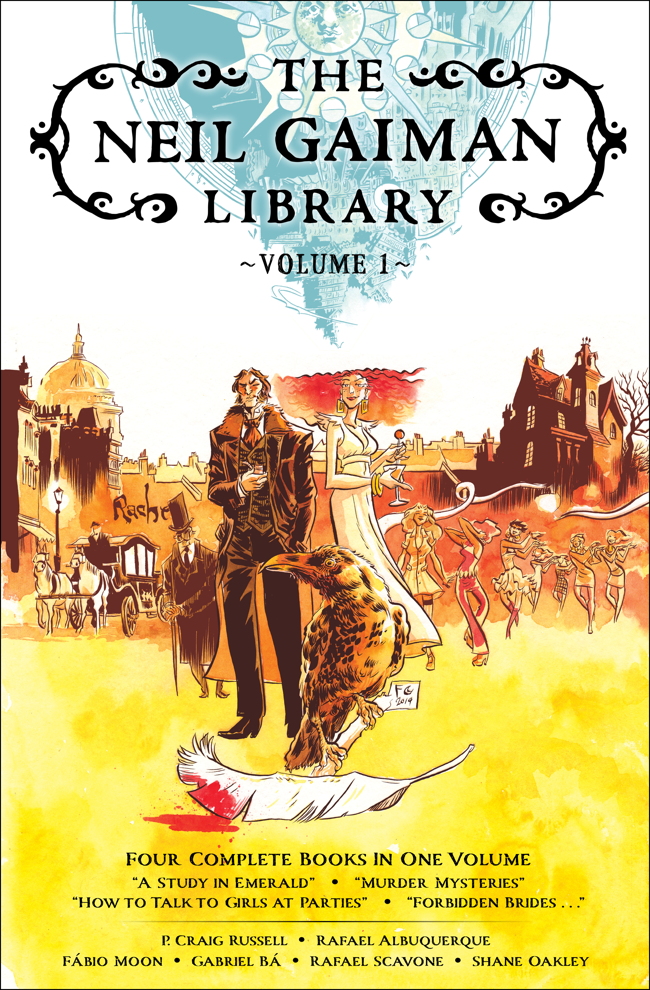 Praise for A Study in Emerald:
"The artwork is on point, with vivid period atmosphere and details shifting to eerie otherworldly scenes… leaving the reader retreading the plot with a sense of horror that lingers long after the close." – Publishers Weekly
"Gaiman has a deliberate storyteller voice, a measured and recognizable intention of voice. Albuquerque and Scavone keep the chorus intact, giving a modern feel to a classic yarn in the inimitable Dark Horse style. A comic from then made for now."—Doom Rocket
Praise for How to Talk to Girls at Parties:
"Few things compare to the sense of wonder I get as I read and reread this comic."—Geeks of Doom
"This is a creation by two artists who have a fundamental understanding of how and why a story works and is able to translate into a new medium, keeping the whole of the story intact while exploring those nooks and crannies of the story that might have gotten lost in the prose." – Multiversity
Praise for Murder Mysteries:
"… Russell conveys a bright, illuminated world of purity and divine experimentation. His crisp and vividly rendered drawings capture the haunting sense of loss and isolation Gaiman expresses in this mythic tale of love and jealousy."—Publishers Weekly
Praise for Forbidden Brides of the Faceless Slaves in the Secret House of the Night of Dread Desire
"A wonderful story that will leave you entertained and amused. Neil Gaiman's writing is witty, whimsical and clever and Shane Oakley's art is a perfect accompaniment to this satirical Gothic tale." – Impulse Gamer
"Forbidden Brides of the Faceless Slaves in the Secret House of the Night of Dread Desire is a gorgeous graphic novel and a must read for any Gothic horror enthusiasts"—Rogues Portal
---
Follow us on Facebook, on Twitter @GetYourComicOn, or on Instagram at GetYourComicOn. If you have a story suggestion email feedback@getyourcomicon.co.uk.