Johnny Cage Enters the Ring in Official Trailer for MORTAL KOMBAT: CAGE MATCH
Warner Bros. UK has confirmed release plans for the upcoming fourth animated MORTAL KOMBAT movie, Cage Match.
Warner Bros. Animation is gearing up for the release of the latest film in its burgeoning Mortal Kombat animated franchise. The follow-up to last year's Snow Blind puts the focus on Joel McHale's Johnny Cage for an 80's inspired adventure as he tries to make it big in Hollywood.
If you're looking for something safe to watch in the workplace then here's the film's green band trailer:
Or if you're looking for something a little more after hours then here's the entirely NSFW red band trailer:
Here's the full press release from Warner Bros. on the upcoming release:
MORTAL KOMBAT LEGENDS:
CAGE MATCH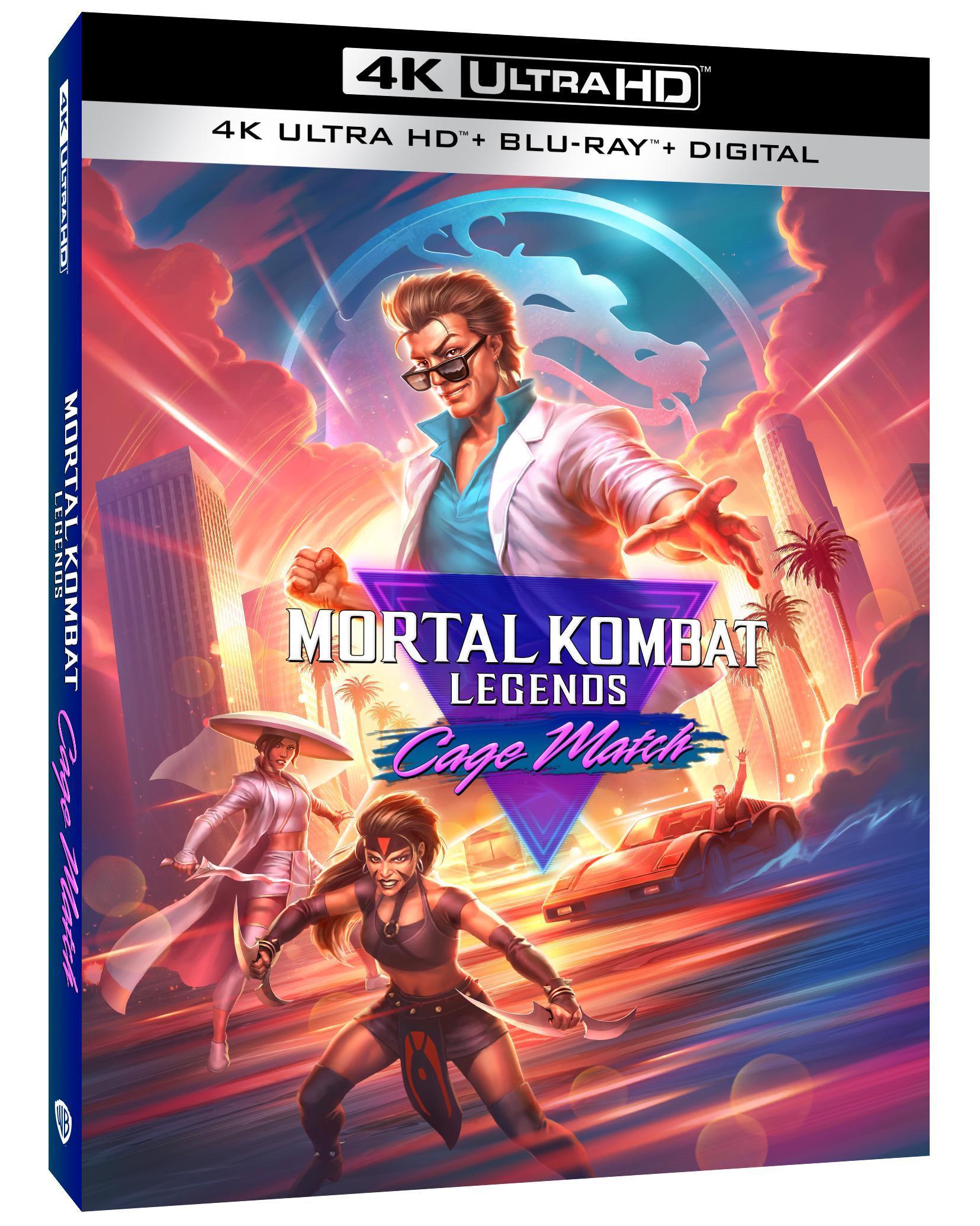 JOHNNY CAGE TAKES CENTRE STAGE IN THE FOURTH ANIMATED FILM INSTALLMENT INSPIRED BY THE WORLDWIDE BEST-SELLING VIDEOGAME FRANCHISE
PURCHASE ON DVD AND BLU-RAYTM ON 16TH OCTOBER AND DIGITAL DOWNLOAD ON 17TH OCTOBER
Johnny Cage embarks on his biggest journey yet in Mortal Kombat Legends: Cage Match. The all-new, original feature-length film inspired by the best-selling worldwide videogame will be available to purchase on DVD and Blu-rayTM on 16th October 2023 and Digital Download on 17th October.
Mortal Kombat Legends: Cage Match, the fourth animated film in the franchise, sees Johnny Cage in 1980s Hollywood on a mission to become a famous actor. However, his world soon changes when his co-star disappears, and he embarks on a journey filled with danger and deceit.
Featuring a terrific voice cast, the film stars Joel McHale (Animal Control, Community) as Johnny Cage and Jennifer Grey (Dirty Dancing, Red Oaks) as Herself. Also starring in the movie is Gilbert Gottfried (Aladdin, Royal Crackers) as David Doubldy, Dusan Brown (Ma Rainey's Black Bottom) as Chuck Golden, Grey DeLisle (Teen Titans Go!) as Kia, Robin Atkin Downes (Luck, DC Showcase: Constantine – The House of Mystery) as Shinnok, Zehra Fazal (Beavis and Butt-Head Do the Universe) as Jataaka, Gilbert Gottfried (Aladdin, Royal Crackers) as David Doubldy, Kelly Hu (Arrow, X2: X-Men United) as Ashrah, Matt Yang King (Elemental) as Concierge, Phil LaMarr (Futurama) as Brian Van Jones, Matthew Mercer (Resident Evil: Death Island) as Director/Bully, Dave B. Mitchell (Call of Duty franchise) as Raiden and Armen Taylor (Justice Society: World War II) as Master Boyd.
Mortal Kombat Legends: Cage Match is directed by Ethan Spaulding (Mortal Kombat Legends: Battle of the Realms) from a script by Jeremy Adams (Justice League: Warworld), who also penned the screenplays for the series' first three films, and supervising producer is Rick Morales (Mortal Kombat Legends franchise, Bablyon 5: The Return Home). All four films are based on the Mortal Kombat videogame franchise created by Ed Boon and John Tobias. Sam Register and NetherRealm Studios' Ed Boon are executive producers.
Mortal Kombat Legends: Cage Match will be available on DVD and Blu-rayTM on 16th October and Digital Download on 17th October. Pre-order your copy now.
SYNOPSIS
Neon lights… Suits with shoulder pads… Jumping from explosions in slow motion… In 1980s Hollywood, action star Johnny Cage (Joel McHale) is looking to become an A-list actor. But when his costar, Jennifer (Jennifer Grey), goes missing from set, Johnny finds himself thrust into a world filled with shadows, danger and deceit. As he embarks on a bloody journey, Johnny quickly discovers the City of Angels has more than a few devils in its midst. He faces off against a sinister secret society plotting a nefarious scheme, but the brutal fight against the bloodthirsty warriors of the Netherrealm is just beginning. Can Johnny, alongside other Mortal Kombat legends, save humanity…and, more importantly, his career?
BLU-RAY SPECIAL FEATURES INCLUDE:
What Would Johnny Cage Do? (featurette) – Step inside the VO Booth with Joel McHale and Jennifer Grey and go behind the scenes with the filmmakers to learn the challenges they withstood to bring Johnny Cage's 80s action film to life.
Ninja Mime Trailer – Relive the trailer for the greatest 80s action film ever made:
NINJA MIME!
Mortal Kombat Legends: Cage Match Audio Commentary – Join Producers Rick Morales and Jim Krieg and Screenwriter Jeremy Adams on an audio adventure recounting the totally tubular tale of bringing Johnny Cage's 80s awesomeness to life.
PRODUCT
DVD – £8
Blu-ray – £12
Digital Download – £9.99
DVD and Blu-ray Audio: French, Spanish, English
DVD and Blu-ray Subtitles: French, Spanish, English
Running Time: 85 minutes
Rating: 15