Robosen Robotics Unveil TRANSFORMERS Grimlock Walking Robot – And It Is Amazing
Robosen Robotics Teams Up with Hasbro to Debut TRANSFORMERS Grimlock, the World's First Dual-Form, Bipedal Walking Robot at San Diego Comic-Con.
Robosen Robotics (Robosen.com), a leading innovator in the field of robotics, has announced a brand new Transformers robot, and it is absolutely insane. Get ready to meet the leader and king of the Dinobots… Grimlock– the world's first dual-form, bipedal walking robot. Through Robosen's partnership with Hasbro, the robot will be on display at the Hasbro Pulse Booth #3213 at San Diego Comic-Con for fans to get an up-close and personal look at their favorite Dinobot.
Pre-order begins today through September 30th on Robosen.com and Hasbro Pulse, ensuring enthusiasts have ample opportunity to secure their Collector's Edition at a special pre-order price of $1,499. Scheduled shipping is late Fall, with a retail price of $1,699.
Now for the science…
Equipped with an advanced SOC chip technology and a comprehensive robot operating system, this Flagship Collector's Edition robot represents the epitome of auto-conversion. It stands as the world's first dual-form, bipedal walking robot, pushing the boundaries of articulation and movement. With 34 high-precision intelligent servos and an array of 85 microchips, the robot exhibits seamless conversion capabilities while delivering smooth motions. Additionally, the inclusion of 6-axis IMU sensors ensures constant balance monitoring, providing unparalleled stability.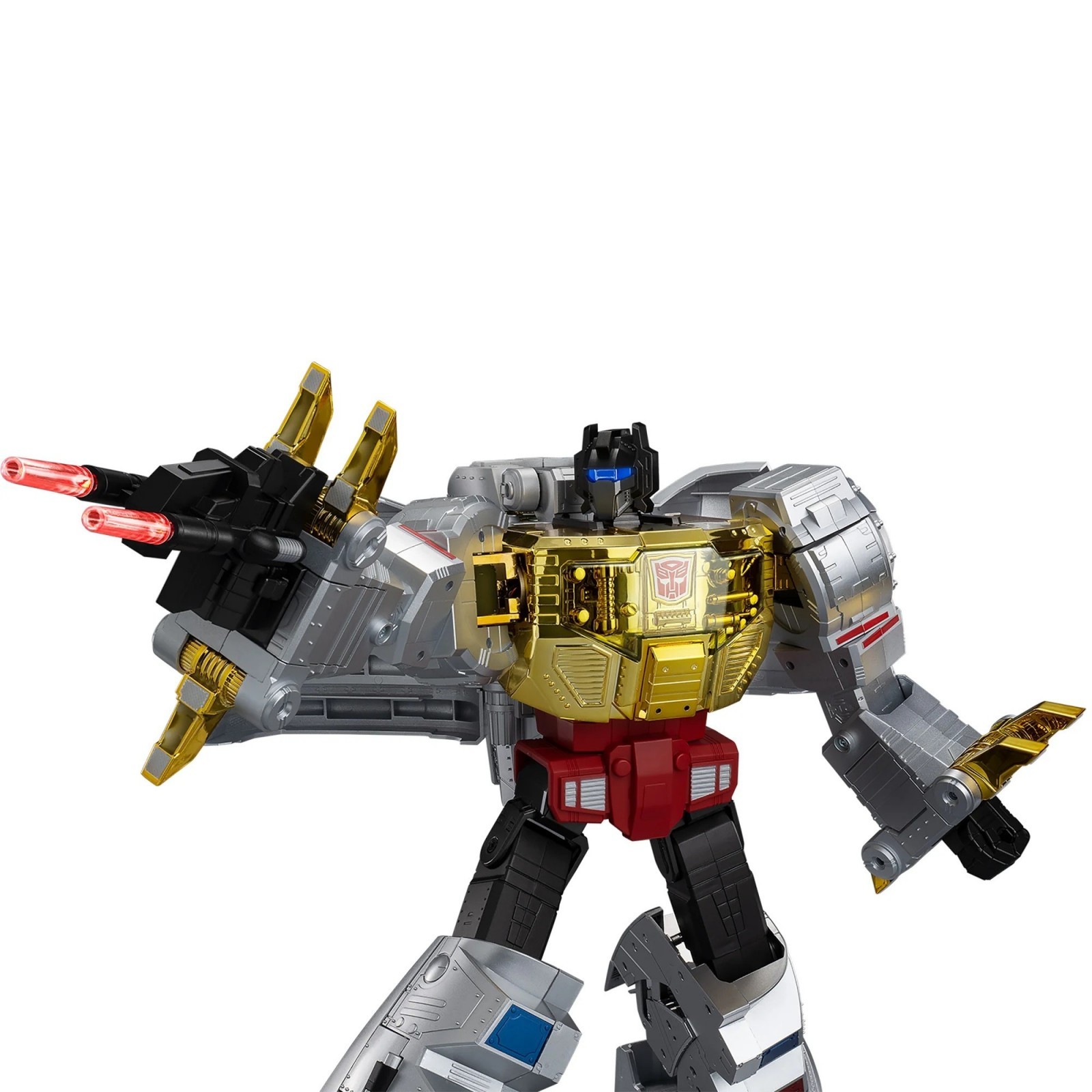 In development since 2016, Grimlock boasts an array of impressive mechanical engineering and advancements in robotics that sets it apart as a must-have interactive robot for avid collectors and enthusiasts. Crafted using the finest materials such as polymers, nanomaterials and superalloys, this robot showcases exceptional build quality, and leverages advanced processing methods including laser etching and precision carving, showcasing meticulous attention to detail.
Voice interaction plays a central role in the immersive experience, featuring 150+ original Generation 1 Transformers audio lines, voiced exclusively for Robosen by Gregg Berger, the original voice of G1 Grimlock. These authentic sound bites are synchronized with robotic actions, creating an engaging entertainment experience. Users can interact with the robot through 42 voice commands, enabling hands-free control for conversion, walking, and various stunning stunts.
Controlling Grimlock has never been easier thanks to the accompanying app. With Bluetooth BLE 5.0 connectivity, users can remotely control the robot's auto-conversion, movements and impressive actions directly from their mobile devices. The app also offers an immersive "MiniTheater" feature, allowing users to enjoy captivating solo performances in SoloPlay mode or coordinate thrilling displays in MultiPlay mode. Collaborate with either Flagship or Elite Optimus Prime to defeat the Decepticons in epic battle reenactments and prepare for future adventures with other Robosen TRANSFORMERS robots.
To further elevate the playability of Grimlock, Robosen provides four programming modes. Users can create new actions for the robot using block-based programming, where modules can be dragged to set angles and speeds, replicating classic scenes from the movies. Intelligent manual manipulation allows for direct adjustments of joints to quickly create robot movements. Voice programming offers a hands-on approach, allowing users to give multiple command words in sequence and easily create customized robot performances. For those seeking the ultimate programming experience, computer-based 3D programming software is recommended to unlock Grimlock's full potential.
"We invite fans and collectors to embrace the future of robotics and experience the unmatched craftsmanship and innovation with our latest edition to our collection," said Sean Tang, Director of Robosen USA. "We're excited for them to own the most powerful Dinobot in the world."
"Robosen continues to impress with their cutting-edge tech masterpieces. The state-of-the-art engineering on this incredible new Grimlock robot represents the Transformers brand in a way that has never been done before—until today, and we're excited to showcase the beloved Dinobot for our fans at San Diego Comic-Con," said Casey Collins, President of Global Licensed Consumer Products and Business Development, Hasbro. "Our Transformers Robosen line proves our ongoing commitment to innovation and powering the imagination of future generations for years to come."
Each purchase of the Grimlock Auto-Converting Robot includes a collector's coin featuring a unique serial number, adding an exclusive touch to this collectible. Furthermore, the robot comes with accessories such as the Crown, Galaxial Rocket Launcher, and Energon Sword, enhancing the play and display possibilities for enthusiasts.
Get a proper in-depth look at Grimlock below:
We know it's a lot of money, but this thing is a walking talking piece of technological art. What Robosen has achieved here is simply ridiculous. We definitely recommend checking out their full range over at their website. Even if you're not purchasing, you can simply admire this geeky feat of engineering free of charge.
What do you think of Grimlock? Make sure you let us know your thoughts in the comments. Don't forget to check out more from the planet Cybertron right here.