ALIENS: FIRETEAM ELITE Review
Dave reviews Cold Iron Studios ALIENS: FIRETEAM ELITE calling it "one of the best Alien franchise games" to-date.
Aliens: Fireteam Elite is developed by Cold Iron Studios and published by Focus Entertainment. Aliens: Fireteam Elite is available now on PlayStation 4, Xbox One, Xbox Series X and Series S, PlayStation 5 and PC.
Synopsis
Set in the iconic Alien universe, Aliens: Fireteam Elite is a cooperative third-person survival shooter that drops your fireteam of hardened marines into a desperate fight to contain the evolving Xenomorph threat. Face off against waves of terrifying Xenomorph and Weyland-Yutani Synthetic foes alongside two players or AI teammates, as you and your fireteam desperately fight your way through four unique campaigns that introduce new storylines to the Alien universe. Create and customize your own Colonial Marine, choosing from an extensive variety of classes, weapons, gear and perks, battling overwhelming odds in this heart-pounding survival shooter experience.
THE ULTIMATE HUNT: Play a pivotal role in the epic events that occur 23 years after the original Alien trilogy as a Colonial Marine stationed aboard the UAS Endeavor, battling terrifying Xenomorph threats. Stunning visuals, iconic enemies, realistic environments, powerful weapons, futuristic equipment, and an eerie soundscape, combined with new storylines in a series of replayable campaigns, expand upon the story from the blockbuster films.
SURVIVE THE HIVE: Face overwhelming odds against over 20 enemy types, including 11 different Xenomorphs along the evolutionary scale from Facehuggers to Praetorians, each designed with their own intelligence to ambush, outsmart and eviscerate vulnerable marines. Utilize cover and master team strategy to survive extraterrestrial threats as they overrun your fireteam from every angle, swarm through doors and vents, scramble across walls and ceilings, and strike from darkness with uncanny ferocity.
CUSTOMIZE YOUR FIRETEAM: Choose from five unique classes – Gunner, Demolisher, Technician, Doc and Recon – each with their own special abilities and character perks. Utilize an extensive arsenal of 30+ weapons and 70+ mods/attachments in your effort to eradicate the Alien threat. An innovative Perk Board modifies and improves your abilities, while a unique Challenge Card system alters the approach to each Campaign mission, offering a new experience with every playthrough.
Review
As a big fan of the Alien franchise on film and in game form I was more than a little excited to get hold of a copy of the latest game from the Aliens universe, Aliens: Fireteam Elite. The game is a co-op shooter that takes you deep inside the world of the movies, giving you firsthand experience of fighting hordes of Xenomorphs.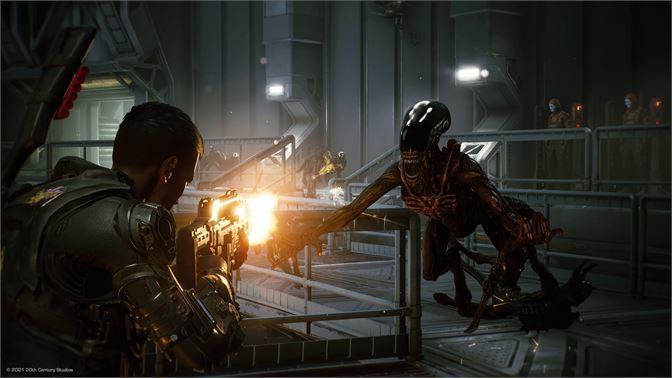 The last game I played with the Aliens theme was Alien Isolation on Xbox One and although it was a pretty decent title it didn't grab me enough to want to constantly play it and I lost interest quickly. Fireteam Elite, however, is a completely different monster. It brings together elements of the films we love with a co-op fps that is full on, unrelenting action.
There are five different classes to choose from and naturally I went for the one with the biggest gun. Within that you can customise the look of your chosen operator so that they are unique to you. It's the stuff of childhood dreams (or nightmares) watching my own likeness blasting through Xenomorphs.
Each of the missions has a similar setup with a seemingly unachievable goal made more difficult thanks to seemingly endless hordes of Xenomorphs. Now don't get me wrong, I could quite happily through this setup all day. But the missions do begin to feel a bit repetitive at times. This is also where Fireteam Elite cranks things up a notch. Getting your friends involved and working as a team to fight the Xenomorphs adds another level of greatness to the game, don't get me wrong the game is still fun playing with AI bots or even randoms online but bringing in your mates takes the gameplay to another level and if your mates are big Aliens fans then all the better.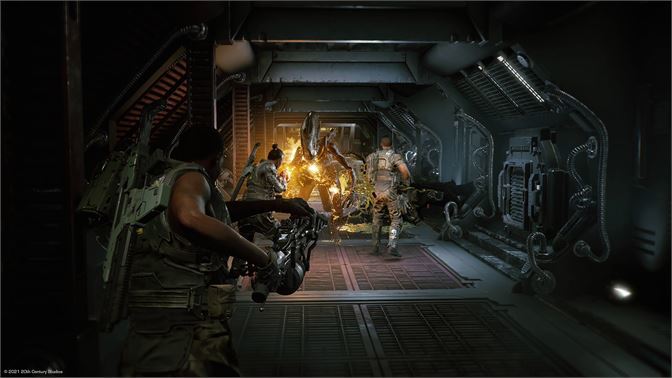 Graphically, the game can feel a bit dated at times. For example when you're taking the NPCs in the command centre pre-mission they can look a bit robotic. The actual gameplay is stunning and looks amazing on the PS5, the Xenomorphs look scary as hell and the playable characters look awesome bringing an overall immersive experience to the game. Yes there could have been maybe one variety to the missions but all the same I had an absolute blast playing it and will definitely continue to do so.
Verdict
Personally I would say Aliens: Fireteam Elite is one of the best Alien franchise games I have played with so much potential of gameplay longevity I definitely see myself taking on Xenomorphs for a long time yet. Great FPS fun with a nostalgic feel back to the film settings. If you loved the films then you definitely need to pic this up.
---
Follow us on Facebook, on Twitter @GetYourComicOn, or on Instagram at GetYourComicOn. If you have a story suggestion email feedback@getyourcomicon.co.uk.