TRANSFORMERS go JURASSIC with new figure set!
Say hello to Tyrannocon Rex and Autobot JP93
Just a few days ago we announced that Hasbro were gearing up for yet another epic collaboration. First we received Gigawatt, the adorable autobot who transformed into the iconic DeLorean from Back to the Future. Now, the Transformers are taking a trip to Isla Nublar.
That's right. Transformers have collaborated with Jurassic Park to bring us two brand new figures. Originally, we believed that a transformer resembling the Ford Explorer would be announced. What we didn't anticipate was a transforming T-Rex… Say hello to Tyrannocon Rex and Autobot JP93.
Transform and welcome to Jurassic Park…
Tyrannocon Rex stands at roughly 7 inches and transforms into her T-Rex mode in just 27 steps. Meanwhile, Autobot JP93 stands at 5.5 inches and converts into the Ford Explorer in 18 steps. The figures are being sold together in a Jurassic Park themed box which comes with a cardboard backdrop that features a very familiar scene.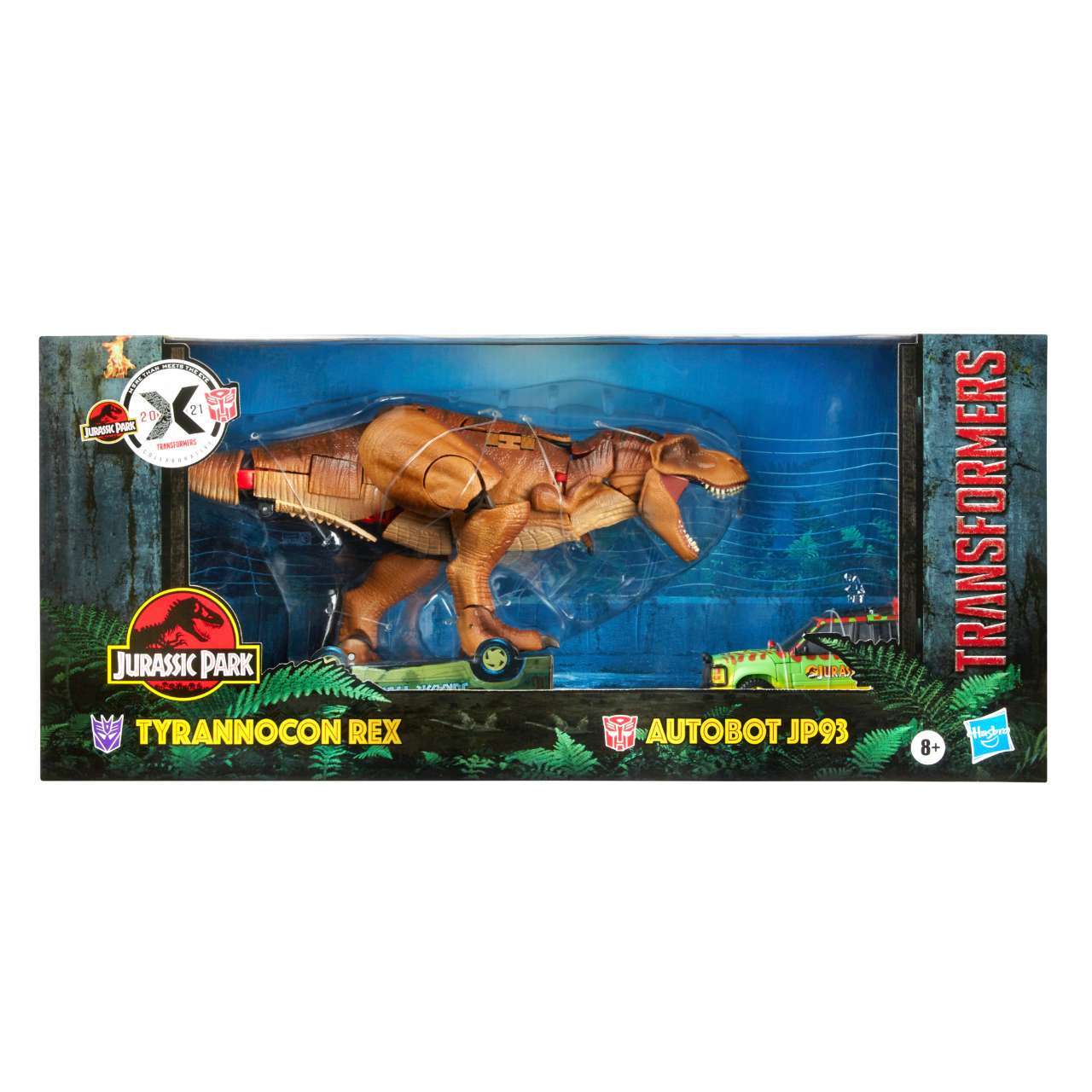 The set is currently available to preorder in the States where it has been priced at $104.99. In terms of a release in the UK, not much is actually known. However, Gigawatt also faced some delays in regards to UK retailers. In fact, it was originally exclusive to the U.S. So if you are looking to grab this set, keep your eyes peeled.
We've been hit with a wave of Transformers news lately, so make sure you catch up on the latest from Transformers: Rise of the Beasts. The seventh film in the franchise. With Transformers finding new ways to excite their fans, we guarentee that many more epic figures will soon follow. On that note… what major franchise would you like to see join the Transformers universe? Maybe Jaws or perhaps something Marvel or Star Wars themed? We would certainly pay for a transforming shark.
Check out more news from the world of toys and collectibles right here.
---
Follow us on Facebook, on Twitter @GetYourComicOn, or on Instagram at GetYourComicOn. If you have a story suggestion email feedback@getyourcomicon.co.uk.