Welcome to part three of my look at some of genre TV's most binge-worthy series. This time we're diving further in to the world of science fiction as we take a look at the universe bending Fringe.
The show, led by the trio of Anna Torv, Joshua Jackson and John Noble, ran from September 2008 through January 2014 for a total of 5 seasons and 100 episodes. Overseen by Alex Kurtzman, Roberto Orci and J.J. Abrams it builds on the serialised storytelling of Alias and Lost to become their most intricate series to-date.
Fringe centres on a Joint Federal Task Force, Fringe Division, supported by the FBI, who investigated strange cases outside of the realms of "normal" science.
Detective Olivia Dunham (Anna Torv) finds herself drawn in to the world of the weird and wonderful after a plane touches down in Boston's Logan Airport, all of its passengers seemingly dead but also oddly translucent. Dunham's partner, Agent John Scott (Mark Valley) contracts the same affliction as the passengers it leads Dunham to meet Walter Bishop (John Noble), a scientist locked in asylum and believe insane, and his son Peter (Joshua Jackson).
The three eventually team up to become the central focus on the show. The strained relationship between father and son turns in to a surprisingly central focus of the show with ties to its universe bending premise. Peter and Olivia's relationship will also transcend the will-they-won't-they trend to become a love affair for the ages.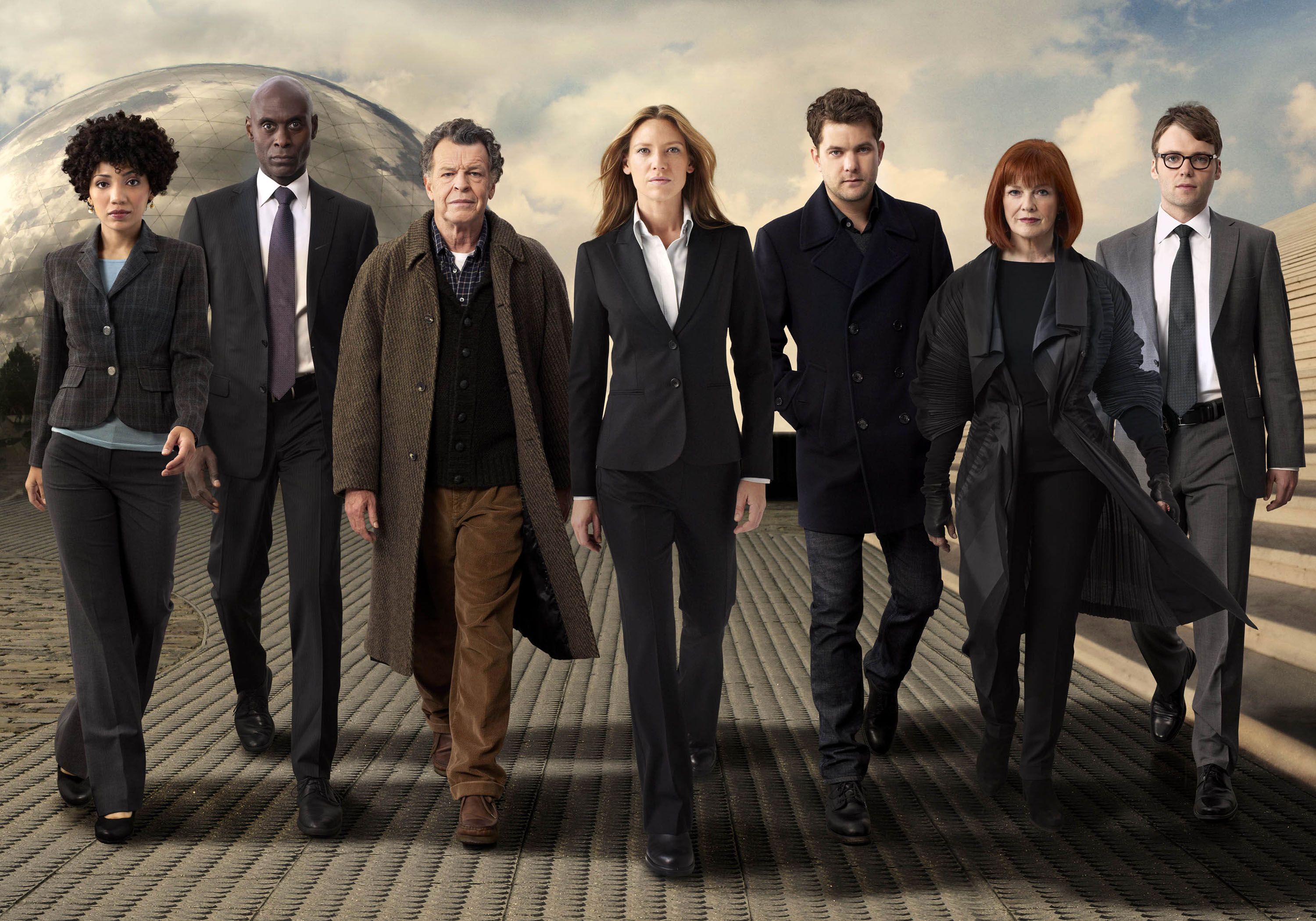 The series cast is rounded out by Astrid Farnsworth (Jasika Nicole), an FBI agent assigned to babysit Walter. Their relationship is one of the most touching (and hilarious) in the entire show, able to make us laugh and cry in the space of a single beat.
Phillip Broyles (Lance Reddick) a Homeland Security agent and Senior-Agent-in-Charge (SAC) who runs Fringe Division. His connection to Olivia often puts him at odds with the mission but his dedication to his chosen family is one of the series key strengths.
Nina Sharp (Blair Brown) heads up the mysterious Massive Dynamic, owned by Leonard Nimoy's William Bell. Nina, Walter and William have history which not only predates the series but also forms the central focus of a number of flashback episodes. Their work in fringe science is also the inciting incident for much of the series mythology.
Like Alias and Lost, Fringe features some complex, on going plot lines which tie back to the series deep mythology. Introduced early in season one, "The Pattern" is a series interconnected incidents which appear to be overseen by a mysterious suited man known only as The Observer (Michael Ceveris). These incidents increase in number over time and seem to portent the end of days.
Whilst the first season takes on a very procedural nature, as the series develops it sheds its roots to become a highly serialised science fiction mystery. The season one finale, "There's More Than One of Everything," shatters everything the audience thinks they know about the series and pushes it in an entirely unique and exciting trajectory for the remaining four seasons.
Fringe lived its TV life very much on the bubble, with fans often left concerned whether it would return for a new season each year. During the midseason break in season three the series would move from its regular Thursday night time slot to FOX's Friday night death slot. Though it would go on to live there through the end of its run it was seen by many as the final nail in the Fringe coffin.
Its fifth and final season, consisting of only thirteen episodes, would see the series break new ground by travelling to the future in order to fast forward its endgame. The 100th episode also acting as the series finale certainly didn't leave a dry eye in this house and thankfully did not suffer the same fate as the final episode of Lost.
Fringe would also capitalise on it's science fiction roots to produce a number of off-the-wall episode such as "Brown Betty" the season two musical and season three's "Lysergic Acid Diethylamide," an animated episode.
In fact Fringe might just be this reviewers favourite TV series of all time…
Highlight Episodes
1×01 "Pilot"
1×20 "There's More Than One of Everything"
2×15 "Jacksonville"
2×18 "White Tulip"
2×22-23 "Over There" Parts 1 & 2
3×19 "Lysergic Acid Diethylamide"
3×22 "The Day We Died"
4×19 "Letters Of Transit"
5×01 "Transilience Thought Unifier Model-11"
5×13 "An Enemy of Fate"
Fringe is available on DVD to purchase now. The series can also be purchased on iTunes, or streamed via Amazon Prime.
---
Follow us on Facebook, on Twitter @GetYourComicOn, or on Instagram at GetYourComicOn. If you have a story suggestion email feedback@getyourcomicon.co.uk.