Movie Recommendations: When Nature BITES BACK!
Alexandre Aja's Crawl hit theatres this weekend (to some surprisingly strong reviews), and follows a woman (Kaya Scoledario) trying to save her father during a category five hurricaine. The catch: Alligators have taken up residence in his crawl space…and they don't seem too happy about her being there.
It's movie's like this, with simple and effective premises, that have kept me enjoying the creature feature sub-genre for years now, and with this kind of movie hitting theatres more reguaarly since the success of Blake Lively's The Shallows, I thought it would be a good time to throw some recommendations your way. I tried to keep the list as varied as possible, but if you have any lesser known recommendations, leave them in the comments below!
Honourable Mentions: Lake Placid (1999), The Reef (2010), Alligator (1980), Deep Blue Sea (1999), Burning Bright (2010) & Anaconda (1997).
______________________________________________________________________________
Rogue (2007)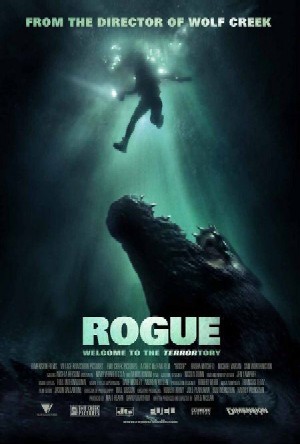 Based on the true story of a crocodile called 'Sweetheart' who terrorized tourist boats in the 1970s, Greg Mclean's "Rogue" needs no introduction to horror fans.
Featuring simple and effective performances from its cast, and excellent special FX to bring the croc to life. Rogue is a perfect croc movie, which features probably one of the best death rolls in the history of film, like seriously.
The movie also makes excellent use of its Australian Outback setting, as our cast of characters get stuck on an island with a rapidly shrinking tide.
The kills are fantastic, the tension is palpable. It really is the perfect killer croc movie.
---
2. The Ruins (2008)
Based on the novel released by Scott Smith in 2006, The Ruins tackles a different kind of natural villain.
This time, a group of backpackers are trapped at the top of a Mayan monument with some killer vines. Yes, people, the plants are here and they're ready to kill.
If this premise sounds silly to you, I have to say that the filmmakers actually manage to pull it off, with the vines creeping up to our characters as they sleep and burrowing their way beneath the skin.
Speaking of, this is definitely a movie for gore lovers, with some highly effective and visceral body horror taking place. The novel is also worth checking out for some plant-based literary dread.
---
3. Anacondas: The Hunt for the Blood Orchid (2004)
Anacondas is here as my choice for the 'so bad it's good' monster movie title. While objectively the original Anaconda starring Jennifer Lopez and Ice Cube is arguably the better movie of the two. Nothing beats this movie's absolutely bonkers premise.
In this movie, a group of scientists head into the Amazon jungle on the hunt for an orchid that could be the answer to human immortality. Yes, that's legitimately the plot. The movie has Johnny Messner as a hilariously over the top tough guy, and KaDee Strickland attempting a truly terrible southern accent.
Oh, and there's also a giant snake orgy in the jungle if that's what you're into.
---
4. Eight Legged Freaks (2002)
Eight Legged Freaks is a movie that seems to have been forgotten about, which is a damn shame.
Perfectly blending the tropes of 50's monster movies with the modern era, Freak's is a perfect homage to the movies of yesteryear. It nails the comedic, campy tone it's going for, and the special effects have held up relatively well for a lower budgeted movie.
Featuring a hilarious motorbike chase featuring jumping spiders, and a 'Lost World raptors' inspired scene on an ostrich farm. This is one hell of a fun movie.
A special shoutout goes to Scarlett Johanson having some fun with spiders before she was Black Widow.
---
5. Monsters
For the last movie on this list, I went with Gareth Edwards (Godzilla) divisive first film Monsters.
A monster movie that actually features very little Monster action, the film follows two characters as they make their way through a quarantine zone lost to the wilderness.
The monsters are kept off-screen for the majority of the run time, and don't play a huge part in the plot, but I can't help but feel Edwards succeeds here in subverting expectations, and manages to give us a very unique film.
Definitely not a movie for everyone, but one that I felt deserved a place on this list as a different kind of monster movie.
Discuss your favorite monster movies below, and let us know if you checked out Crawl in theatres this weekend.