Manchester Comic Con 2023 Review
Manchester Comic Con 2023 continued the high bar of conventions run by Monopoly Events, bringing the very best of pop culture to Manchester.
Manchester Comic Con 2023 was a weekend-long event that managed to exceed the high bar set by previous iterations of the convention, which is no mean feat. The good people at Monopoly Events clearly worked tirelessly for months on end to put this year's event into existence and the end result was there for all to see. Spread across 2 great days, the 29th and 30th of July saw the BEC Arena in Manchester become a thriving hub of diverse, inclusive, exciting, family oriented fun!
Being the fortunate owners of 2 tickets, we went with fond memories of last year's event, but I can safely say that this year topped that excellent convention in every way. Upon arriving at the venue, the predictably large queue was dwindled down in no time at all, which is an absolute credit to the efficient and organised security staff – other convention's staff should take note! Every member of staff was polite and courteous, making every paying customer feel very welcome indeed. That kind of attitude lead to a relaxed and jovial atmosphere throughout.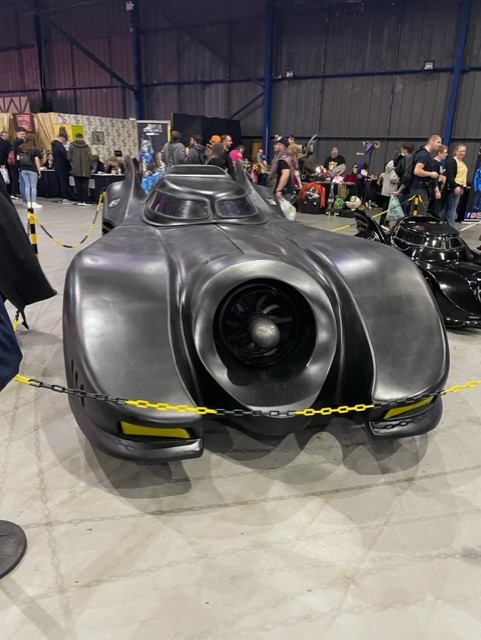 Whatever your taste, this event catered to you. All realms of popular culture were represented with the array of special guests in attendance, with stars from the worlds of TV and movies such as Zachary Levi, Seth Green, Elizabeth Berkley, Jake Busey and many more from hit shows The Walking Dead, The Boys, Vikings and Only Fools & Horses providing photo opportunities, autographs and my personal favourite, Q& A panels.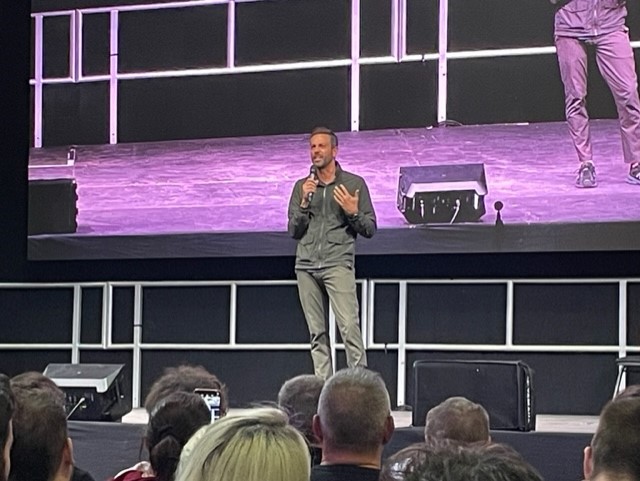 These provided some wonderful moments of entertainment and poignancy, all expertly curated by convention host SoCal Val, which was impressive considering the current restrictions in place as a result of the current SAG strike taking place across the Atlantic. The undoubted highlight of said panels was from the cast of Only Fools & Horses. Following a great session of chat from the stars of my all time favourite sitcom, we were treated to an impromptu rendition of one of the most iconic musical numbers in UK television history, that us all "cwying" with laughter. Worth the price of admission alone.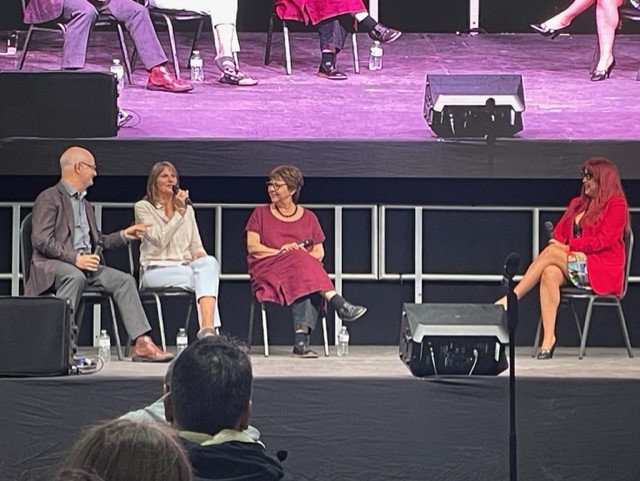 The layout of the vast arena was extremely well thought out this year, with plenty of options for customers to enjoy. In addition to a huge hall full of traders, a massive marquee had been added to the venue, which was also filled to the brim with stalls. Those in attendance with money to spend certainly were spoilt for choice, with huge quantities of comic books, action figures, funko pops, props and t-shirts on offer, not to mention the artisan food stalls too. All the retailers appeared to be doing a very brisk trade, which was lovely to see.
Another great section of the venue was dedicated to iconic vehicles and props from tv and film. Fans of Ghostbusters, Stranger Things, Star Wars and Batman were very well served in this part of the arena, as the undeniable opportunity to live out their fantasies of being part of these franchises proved too much to resist, and that included yours truly!
For anyone in doubt, I'm the one on the left of the picture…
Fans of retro gaming (me!) also got plenty to sink their teeth into, in the form of a wonderfully set up gaming area, with a sizeable amount of classic games from yesteryear. I must confess to failing at the final hurdle to complete The Simpsons arcade game, it just wasn't meant to be.
As is always the case at any Comic Con, the cosplaying attendees looked spectacular. The sheer amount of effort, time and care that had gone into many of the costumes, not to mention talent, was inspiring. It is a true mark of a fan's dedication and love for their heroes that they will go to so much time and effort to create these works of art. A shot from the Cosplay Masquerade can be seen below, how many characters can you spot from the worlds of anime, video games, movies and comics?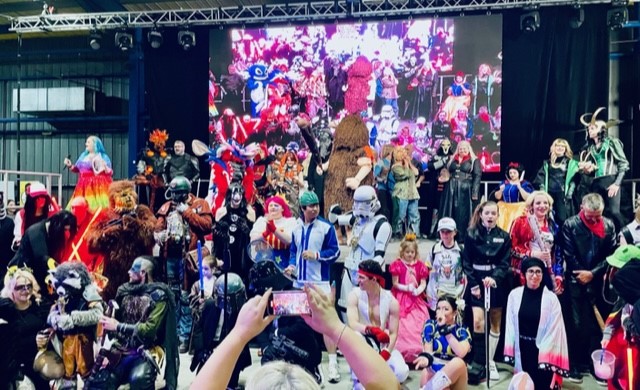 Reflecting on an entertaining, fulfilling and exhausting weekend, I can say that Manchester Comic Con 2023 was a great event. The organisation, the family atmosphere, the fun activities, the celebrity guests and the great venue all worked together to create a great time. A huge thank you to Monopoly Events for staging the convention and roll on the 2024 event, it cannot come soon enough!
Images Courtesy of Oliver Byrne