POWER RANGERS UNLIMITED: HYPERFORCE #1 Review
Dave reviews the latest issue of BOOM! Studios brilliant POWER RANGERS UNLIMITED one-shot series. Available now.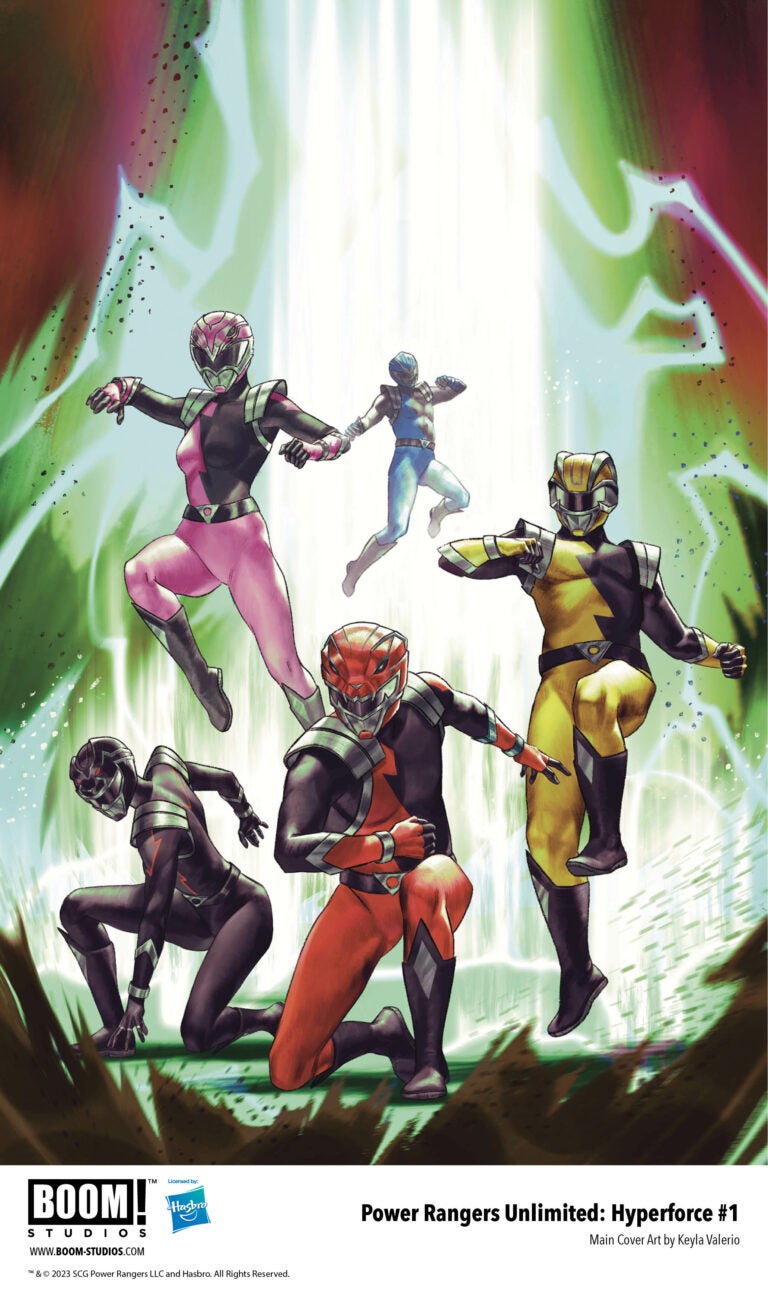 Power Rangers Unlimited: Hyperforce #1 is published by BOOM! Studios, written by Melissa Flores and Meghan Camarena, illustrated by Federico Sabbatini and coloured by Bryan Valenza.
Issue #1 is available 19th July either directly from BOOM! Studios online or from your local comic book store, digital copies will be available to download from the usual content providers.
Synopsis
Mistress Vile, formerly known as Rita Repulsa, and Dark Specter have invaded the Morphin Grid! As the dark contagion spreads and puts the Rangers in their most vulnerable state yet, the HyperForce Rangers will have to scour the multiverse for as many unexpected allies as they can, while they're pushed to their limits…
Review
In this issue from the Unlimited series we seethe view of the universe from an alternate reality, one that sees a group of Rangers but not quite what we have seen before. Pink Hyperforce Ranger, Chloe Ashford is toorn with which side she needs to be on with the influence of her father, who so happens to be a member of the most evil group ever, begins to take a tighter grip on Chloe and is starting to darken her from the inside as she becomes swayed by her father, the Rangers try to brighter back to the good side using memories trying to unlock her thought process and open her mind back up was again.
Speaking with Yellow Ranger Jack who is convinced the real Chloe is still in there, she begins to open up to her plan but there seem to be an element of trust that Chloe needs to convince the Rangers she can be trusted but me personally I think there is an underlying issue here and one that could well smash open the universe as a whole.
Mistress Vile casts her shadow over the universe and now with her Alliance she is more threatening than ever before, she must be stopped but how?
I'm enjoying the path that Melissa Flores is taking the Power Rangers, each series she injects a fresh vibrant feel to the storyline that drags you in deeper into the multiverse. I love how the different characters are introduced but they slot in like they have always been there.
The illustrations this time have a bit of a softer tone to them almost feeling animated, Federico Sabbatini provides his unique touch to the Power Rangers and it looks great, a softer tone but with still a vibrant art style with the colours from Bryan Valenza capturing the vibrancy of the story and injecting the energy that regular readers look for in a Rangers comic.
Verdict
I am a fan of the Unlimited series of books and this Hyperforce looks as though it could well be my favourite yet with the enemies being as strong as they've ever been we need the strongest Rangers we have ever had and I think we may just have them here, I can't wait to see how this series unfolds.
⭐⭐⭐⭐⭐