OBI-WAN KENOBI 1×02 "Part II" Review
Part II of Obi-Wan Kenobi is available to stream now excluvely on Disney+
We're back again. Releasing two episodes at the same time often comes with a strange dual effect. While it is great to have a fluid continuation of the story on the same day, it also means that we are one episode closer to the finale. Be that as it may, dropping the second episode of Obi-Wan Kenobi was actually a fantastic idea. Unlike The Mandalorian, which often appeared episodic and detached, the transition from Part I and Part II was absolutely seamless. It felt like one giant episode. The momentum held throughout both episodes, and the stakes gradually elevated.
Part II picks up exactly where Part I left off. Obi-Wan leaves his solitude life on Tatooine to pursue a young Princess Leia who has been kidnapped. While a driven Reva goes to extreme lengths to draw Kenobi out, the weary Jedi soon learns more about the state of the Galaxy as the Empire reigns surpreme.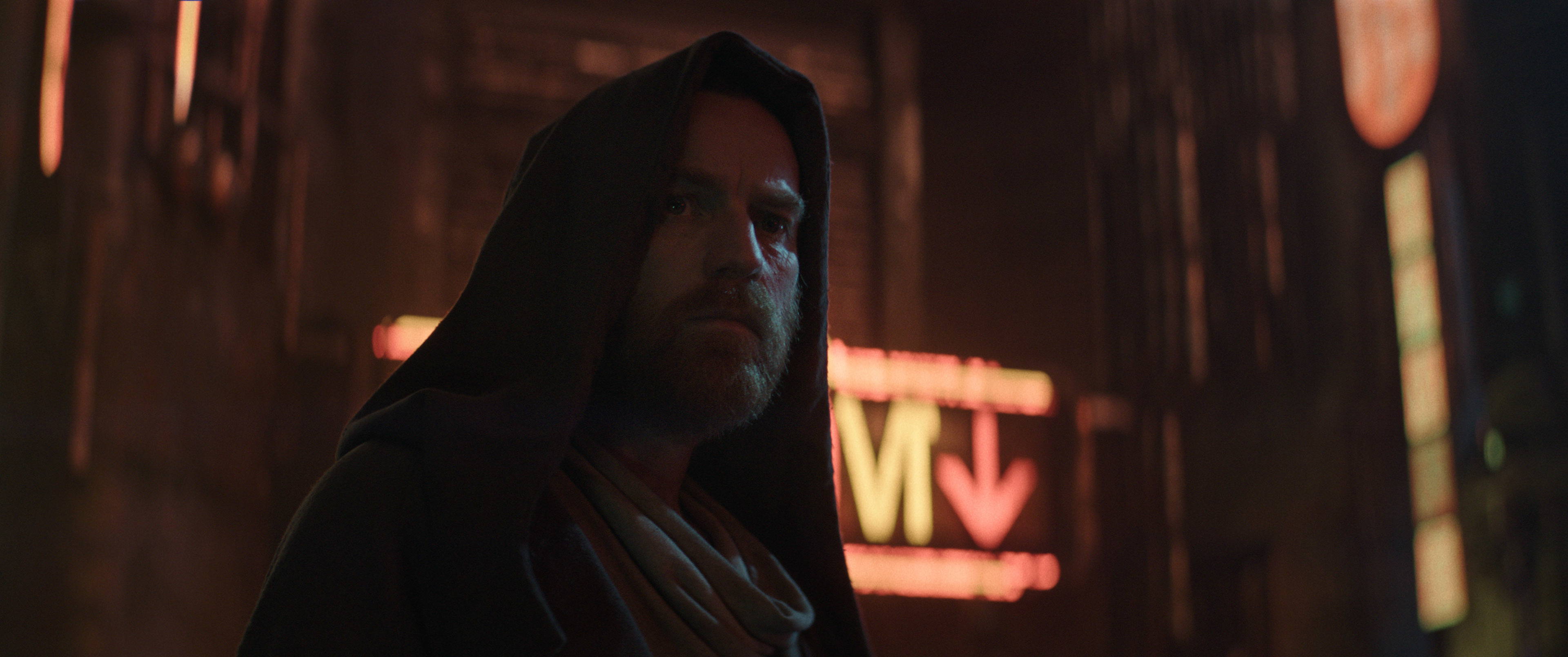 Review
What's interesting about this episode is how different it is compared to Part I. The opening episode presented us with a very different Obi-Wan Kenobi, but this episode really reveals just how much Obi-Wan is struggling. He went from his mundane life in the desert, to a man on a mission at the risk of exposure. Not only that, but he's in a new enviroment with his skills that have been gradually eroding. This fish out of water format worked really well since it created funny moments with the fantastic and adorable Vivien Lyra Blair, who plays Leia, but it also honed in on the seriousness of Obi-Wan's struggles. At his core, Obi-Wan has rejected the Force and you can see how that changes his approach to even the simplest of things. He's rough, weaker, and a lot harsher.
While we appear to have lost the Obi-Wan we know and love, Princess Leia does indeed bring out the best in him and watching their chemistry flourish on screen has been an absolute delight. Blair's portrayal of Leia is endearing, sweet, and powerful. She has perfectly captured Carrie Fisher's essence and it has given us a very authentic portrayal of a young Leia. This is exactly what Leia would be like at 10 years old. During the build up to Obi-Wan Kenobi, it's hard to imagine that many of us would have predicted that a team up between Obi-Wan and Leia would be driving this narrative forward. Yet, here we are and it is perfect. McGregor and Blair make a fantastic team, and within that relationship lies Kenobi's lost hope.
The pinnacle of Ewan McGregor's performance as Obi-Wan comes into fruition in the final moments of this episode. McGregor is at his best in this chapter, with echoes of his Prequel demeanor seeping through, but the last few seconds are something else entirely. Reva taunts him with a secret that sets Obi-Wan on an entirely new path, but it isn't the secret that hits us as an audience… It's Ewan's reaction and the realisation that Obi-Wan has no idea what has happened in the last 10 years. Or more specifically, what has happened to Anakin in the last 10 years. It truly is a rude awakening. An awakening that carries a lot of weight.
In comparison to Part I, this episode is a lot busier. There's a lot more action, and it's worth mentioning that it is still unusual seeing Obi-Wan with a blaster, so uncivilised. It isn't the usual sort of action associated with Obi-Wan. In the prequels, he's always been this graceful presence. Whereas, in this series he's more hands on, but there is a gravity to his movement that weighs him down and that is reflected in his new-found approach to combat. He'll pretty much do anything else if it means that he doesn't have to reach for his lightsaber. It's like a burden to him, rather than an extension of himself.
The rapid pace gives Obi-Wan Kenobi a more exciting boost that projects the narrative forward. We know what is at stake. While the episode is a lot more vibrant and constant, we never lose touch with the core narrative. This is a rescue mission. However, there are so many small moments of storytelling through the actors themselves as they traverse this new environment. The mission is still driving the episode, but the characters are very much at the centre, as they should be. It's actually incredibly telling just how focused this show is on its main cast. Despite visiting an entirely new planet, we were only allowed to explore it through Obi-Wan and Leia, and even then what we saw was incredibly limited.
A place such as Daiyu also allowed us to see new aspects of the Star Wars universe. New species and new ways of life. This episode was rich in regards to new Star Wars goodness. One of the most surprising additions was definitely Kumail Nanjiani's Haja, a con man who "uses" the Force to earn credits. He was a fun character who served a purpose beyond lifting the darkened mood. He essentially revealed how the Empire's presence has changed the way people thrive. It's a constant war of desperation and survival, and certain individuals exploit that weakness for their own personal gain. What appeared to be a cheap trick at first actually turned into an eye opener for the audience, as well as Obi-Wan.
With the duo on the run, it soon becomes apparent just how desperate the Third Sister is to capture Obi-Wan Kenobi. Reva is continously growing in terms of her character. She's becoming a very interesting antagonist that appears to be difficult to read. While her anger and lust for power paints a certain picture… It feels as though there is something else hidden under the surface. What that is exactly remains to be seen. However, her desperation is quickly revealed when she defies the Grand Inquisitor and goes on her own little hunt, dispatching the necessary tools to flush out a Jedi in hiding. It's a low move, but Reva is hellbent and obsessed so she will use whatever she has. There's still so much we don't know about Reva, but this episode helped set the stage for her obsession.
Verdict
Part II is an exciting and captivating joy ride that is full of new and wonderous elements. While there is still plenty of fun to be had, the gritty nature remains constant with a stellar performance from Ewan McGregor. Obi-Wan is at his most vulnerable and the world he's stuck on, as well as the relentless Reva, push him to his limits. However, the presence of Leia may be the one shining light that will guide him out of this darkness.
⭐⭐⭐⭐⭐
Obi-Wan Kenobi is directed by Deborah Chow and executive-produced by Kathleen Kennedy, Michelle Rejwan, Deborah Chow, Ewan McGregor and Joby Harold.
The first two episodes of the series are available on Disney+ right now. Following the premiere, the series will stream weekly on Wednesdays, until the finale on Wednesday 22th June. Have you watched the Part I and Part II? Let us know your thoughts in the comments.