Mondo Announces Vinyl Release For Michael Giacchino's THE BATMAN Score
Mondo details the upcoming vinyl release of Michael Giacchino's blistering score for THE BATMAN. Available to pre-order from today.
Have you been humming that new Batman theme for the last week? If, like us, Michael Giacchino's huge new score for The Batman has been stuck in your head then we have a team-up to get you excited.
Warner Bros. record label Watertower Records has announced a new team up with Mondo to release Giacchino's musical score on vinyl. The album is available to pre-order from today via MondoStop.com starting at 12pm CT /6pm GMT.
Here's the full press release from Mondo:
Austin, TX – March 7, 2022 – ​​Mondo, in partnership with WaterTower Music, is proud to present Michael Giacchino's absolutely brilliant score to Matt Reeves' highly anticipated THE BATMAN, ​​which stars Robert Pattinson in the dual role of Gotham City's vigilante detective and his alter ego, reclusive billionaire Bruce Wayne.
The Batman (Original Motion Picture Soundtrack) features the music of Academy, Emmy and Grammy Award-winning composer Michael Giacchino, whose credits feature some of the most popular and acclaimed film projects in recent history, including "The Incredibles," "Coco," "Jojo Rabbit," "Ratatouille," "Star Trek," "Jurassic World," "Rogue One: A Star Wars Story," "Spider-Man: Homecoming" and "War for the Planet of the Apes."It's the fifth film Reeves and Giacchino have collaborated on.
Giacchino proves himself once more as one of the greatest living composers by introducing a powerful and instantly canonized new theme to one of the most musically iconic superheroes.
When director Matt Reeves heard the theme for the first time, he was with film producer Dylan Clark. "I was blown away!" He exclaimed. "It was so emotional. The two of us literally cried…it was amazing."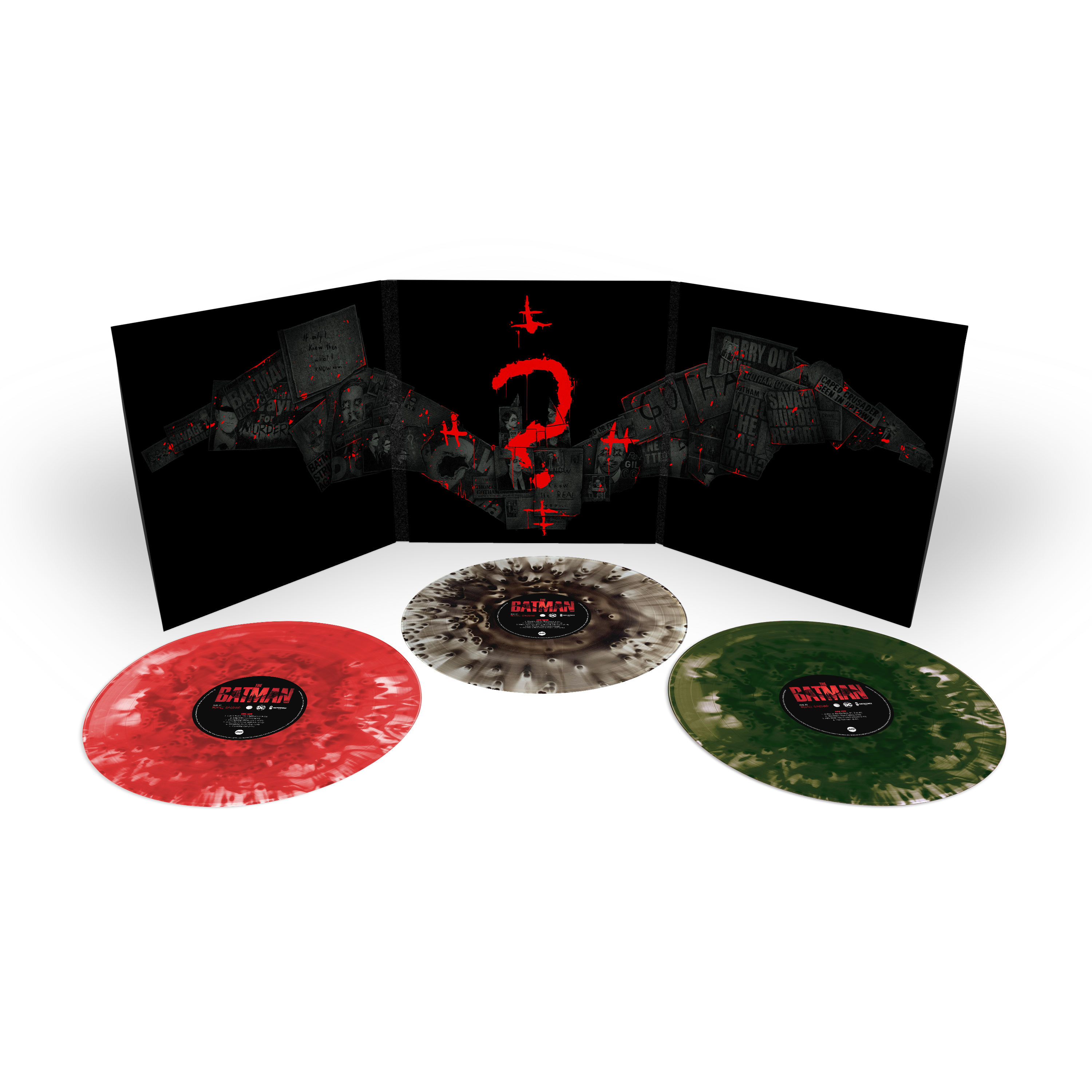 Though it's not only the world's greatest detective who emerges with a new theme – Selina Kyle / Catwoman's new string heavy theme is slinky and haunted like that of a classic noir's femme fatale. And Giacchino's take on The Riddler is far more haunted, accompanied by the Tiffin Boys choir, a truly terrifying and dread-inducing motif for one of the scariest takes on a Gotham villain to date.
"In 2022, five decades and nearly two dozen takes on the character and the music of his world, it should be impossible to tackle the world's greatest detective with such a fresh and iconic take," says Mondo Creative Director Mo Shafeek. "But here we stand, and the soundtrack to THE BATMAN is as inspired and essential as the film itself."
With nearly two hours of score, housed on three discs, featuring all new artwork by Henry Abrams, and pressed on 180 gram vinyl (color exclusive to the Mondo webstore, also available on 180 gram black vinyl), THE BATMAN soundtrack on vinyl will be available for pre-order on Wednesday, March 9 at 12pm CT at MondoShop.com.
Written and directed by Matt Reeves, The Batman is set to star Robert Pattinson in the title role, Zoe Kravitz as Selina Kyle, Jeffrey Wright as James Gordon, Andy Serkis as Alfred Pennyworth and Paul Dano as Edward Nashton.
The Batman is in UK cinemas now.
---
Follow us on Facebook, on Twitter @GetYourComicOn, or on Instagram at GetYourComicOn. If you have a story suggestion email feedback@getyourcomicon.co.uk.