SUPERGIRL SPECIAL #1 (2023) Review
Neil reviews DC Comics' brand new SUPERGIRL SPECIAL which is available from today where all good comic books are sold.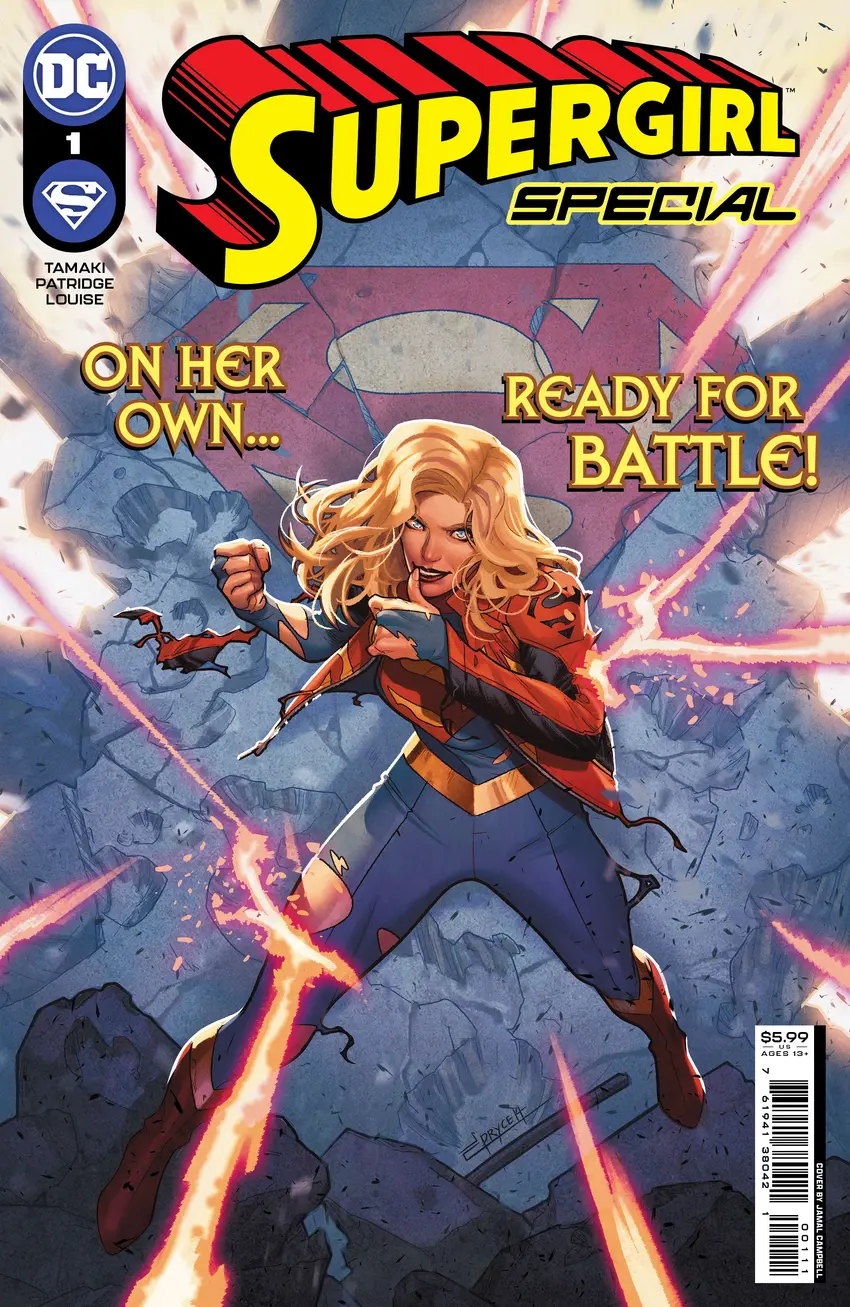 Supergirl Special #1 is written by Mariko Tamaki and published by DC Comics. Artwork is by Skylar Patridge and colours by Marissa Louise. Letters are by Becca Carey. Main cover art (left) is by Jamal Campbell.
Supergirl Special #1 is available now, in print and on digital platforms where all good comic books are sold.
Synopsis
GIRL INTERRUPTED! After joining the Superman Family and their heroic efforts in Metropolis, Kara thought she had found her place in the world. But there's only room in town for one Supergirl, and Power Girl's sudden reappearance has made her redundant. Her identity and role are both in question as she looks for answers. Will they lead her out of the city or out of this world? Find out as critically acclaimed writer Mariko Tamaki (Supergirl: Being Super) returns to the Maid of Might with the help of Skylar Patridge (Wonder Woman)!
Review
It's been an interesting few years for Kara Zor-El. Having wrapped up her TV series she has found herself with an incoming movie based on Tom King's incredible Woman of Tomorrow limited series. But in mainstream continuity Kara has been a little lost. Particularly since the return of Power Girl, something today's Supergirl Special #1 tackles head first.
Mariko Tamaki and artist Skylar Patridge have a lot of fun bringing closer to some of Kara's recent goings on. Poking fun at society's somewhat constant need to pit women in power against each other. But also digging deep in to who Kara is, how she sees herself and perception of her place within the current framework of the DCU.
Tamaki last wrote Kara back in 2016's Supergirl: Being Super miniseries. That story was something of a coming-of-age tale for the Woman of Tomorrow. Hopefully with Kara's new popularity and the strength of this special, fans will go back to Being Super as it's a more than worthy entry in to her history. Here Tamaki dives deeper in to Kara's mental health as a way to explore the character. Those coming in to this special hoping for a straight-up one-shot should prepare to have their expectations blown apart as Supergirl Special takes huge steps to rebuild the character.
Early in the Book Kara is asked about her former life on Krypton by Otho and Osul-Ra. The two are simply curious as to what their fellow Kryptonian remembers of life before the infamous disaster. But with Karan struggling to feel relevant the constant questioning only serves to push her further in to her own mind as she grapples with a loss of identity. It's here that Tamaki revels in the character's cynicism, a side that really sets her apart from Clark and the rest of the Super-Family.
Tamaki leans heavily on artist Skylar Patridge and Marissa Louise as Kara dredges up memories of her life during Krypton's end of days. The artists do a masterful job of really bringing Krypton to life. Memories are almost watercolour-like in their appearance and stand in cool contract to present-day life in Metropolis. There's a wonderful melancholy to the look of Supergirl Special #1 which is both unexpected but also so perfectly in tune with Tamaki's story that it's difficult to think of anything that could be done differently.
Ultimately the book has to deal with the co-existence of both Supergirl and Power Girl. As the two reconcile and find a way to move forward it's a rewarding ending which feels exciting for fans of both characters. There's a strong sense of healing for Kara and that Tamaki was more than capable of steering the ship to reach this point. There's also no doubting that anyone reading this book will call for the creative team to reunite for an ongoing Supergirl series.
Verdict
A truly powerful character portrait from writer Mariko Tamaki and artist Skylar Patridge. Another unexpected story for Kara Zor-El and Supergirl repositions herself in the modern-day Super-Family landscape.
⭐⭐⭐⭐⭐