MAGIC PLANESWALKERS: NOTORIOUS #1 Review
Dave reviews the brilliant MAGIC PLANESWALKERS: NOTORIOUS #1 from BOOM! Studios, available now where all good comics books are sold.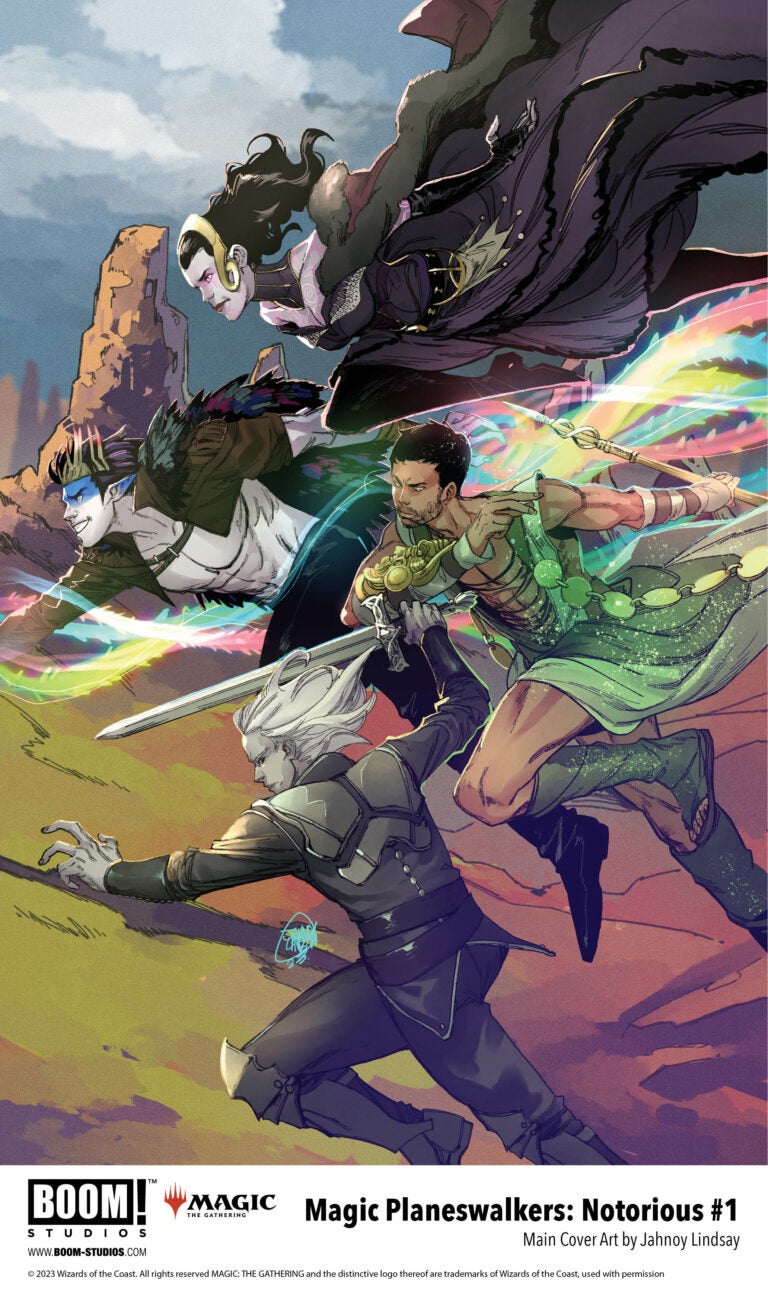 Magic Planeswalkers: Notorious #1 is published by BOOM! Studios, written by Cullen Bunn and Rich Douek and illustrated by French Carlomagno and Carlos Pedro.
Issue #1 is available 23rd August 2023 either directly from BOOM! Studios online or from your local comic book store, digital copies will be available to download from the usual content providers.
Synopsis
Two of the most popular Planeswalkers in Magic: The Gathering history–fan favorite vampire Sorin Markov and the incomparable necromancer Liliana Vess, come together for a team-up that's not to be missed! On a mysterious, unnamed plane, the two must work together to prevent a diabolical figure from unleashing hell across the multiverse.
Meanwhile, two of the most mysterious of the Planeswalkers, Oko and Calix, cross paths elsewhere on another plane…
Review
In this special one shot issue we are introduced to more powerful characters from within the magical multiverse of Magic The Gathering, two stories that follow two sets of different characters one being a fan favourite and the other more of an introduction to new characters. In the first story we discover Oko who is on his quest to finally get his hands on Elspeth who he has been hunting through the Planes for years to take her back where she belongs.
The hunt takes a bit of a sinister twist as a chance meeting with shape shifting Calix who offers his "help" to Oko to find his prey he puts across the best intentions but as you read on this intentions aren't fully as they seem.
The second of the stories focuses on two Necromancers Liliana Ness and Sorin Markov, probably two of the most powerful Necromancers to walk the world of the undead. A strange scratching sound summoned the two to this strange world and the two show quite quickly that this meeting of the two isn't exactly wanted. Old grudges must be put to one side and a fractured alliance must be formed if they are going to overcome the darkest of threats that is about to descend upon them, this may be a dark place and it may not be a fight between good and evil but this looming threat needs to be stopped and this new alliance is what will stop it.
This book is a bit of a unique one shot as it combines two intense short stories that introduces new paths for characters that some readers will already know. Cullen Bunn and Rich Douek combine their writing talents to give fresh insight into a multiverse that I have loved stepping deep into although I feel that the fall out from these two stories may well rock the multiverse for good. I am already a big fan of Cullen Bunn from his previous work and just knew as soon as I saw his name as one of the writers that is involved in this title that this was going to be an enjoyable read, the book didn't disappoint however it felt more like an opening to new story veins for the new stories to evolve within the world.
From the beginning I have enjoyed the art style of the Magic comics, the magical colours and dramatic illustrations have captivated me from the very first issue, this one shot keeps that theme going with the incredible talents of French Carlomagno and Carlos Pedro bringing to life this magical word in the only way you would expect a Magic title would. I loved the colourful style of the book, with the first story with a more colourful look to it and the second story going for a more darkened theme both working really well telling both stories and bringing the characters to life.
Verdict
Another great one shot from the Magic world, I am enjoying experiencing this world grow and evolve as each coming issue takes the story vein in a new direction injecting a freshness that keeps the story alive, I would definitely love to see more from this vein.
⭐⭐⭐⭐⭐